site.bta

Cabinet: Nat Gas Deliveries to Bulgarian Customers Will Not Be Reduced (Wrap-up)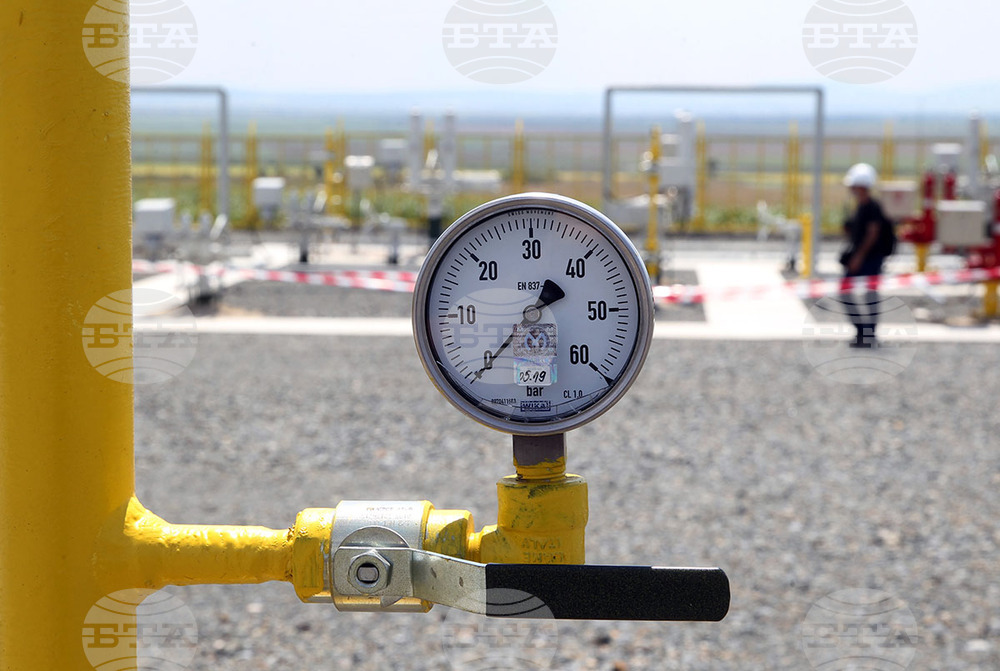 BTA Photo
Reacting to the news that Gazprom is discontinuing its gas supplies to Bulgaria as of April 27, on Wednesday Prime Minister Kiril Petkov, Deputy Prime Minister Assen Vassilev, and Energy Minister Alexander Nikolov assured Bulgarian customers that gas deliveries will not be reduced.
Late on Tuesday, it transpired that Gazprom Export has given Bulgaria a one-day notice that its gas supplies would be discontinued. The Energy Ministry said in a press release that the Bulgarian side has honoured all its obligations and made all due payments under the effective agreement for gas supply. "Following an analysis by Bulgargaz and the Bulgarian Energy Holding, it was established that the two-stage payment procedure proposed by the Russian side is at odds with the agreement that is effective until the end of this year and poses considerable risks for the Bulgarian side, including to make payments without receiving any gas supplies from Russia," the statement reads.
Prime Minister Petkov
The Bulgarian Prime Minister commented before the start of Wednesday's Council of Ministers weekly meeting that the Government is prepared for this scenario: "Gas deliveries to users will not be reduced in any way."
"The Energy Ministry has a clear action plan, including a plan for alternative sources," Petkov said. He described Gazprom's decision as a gross violation of the contract with Bulgaria and an act of blackmail.
Referring to the role of Bulgaria's former incumbents in arranging for an extension to the TurkStream gas pipeline via Bulgaria, Petkov said: "After the billions spent on TurkStream, we can see where GERB's policy has taken us. [...] The Exchequer lost 3 billion leva because it was spent on TurkStream. Gas supplies to Bulgaria were not diversified as a result of all that."
The Government remains focused on the Greece-Bulgaria gas interconnector (IGB), the Prime Minister explained. "Earlier in the morning I had a phone call with [Greek] Prime Minister Kyriakos Mitsotakis, who confirmed that everything is going according to plan," Petkov said, adding that the construction of IGB will be completed by June. "Besides that, he confirmed that joint actions will be taken to diversify gas supplies by obtaining liquefied natural gas."
Petkov has also talked with European Commission President Ursula von der Leyen, who has voiced support and preparedness for a joint EU response.
Speaking after the weekly cabinet meeting, Prime Minister Petkov said that Finance Minister Assen Vassilev and Energy Minister Nikolov will be visiting Brussels on Thursday to discuss a common response with Bulgaria's EU partners.
"Gazprom has discontinued gas supplies because it wants payments to be made in rubles through third countries which are not party to the existing contract. This does not guarantee gas supplies to Bulgaria nor Bulgarian money. "We can't give in to this kind of blackmail. Meanwhile we are reviewing the contracts with Gazprom for gas deliveries and gas transit through Bulgaria. We want to show that Bulgaria won't tolerate this one-sided blackmail," added Petkov.
Deputy Prime Minister Vassilev
Talking at a BTA-hosted news conference, Deputy Prime Minister Vassilev said that the Government has reserved natural gas quantities along the existing gas connections, and Bulgarian consumers will not be affected.
The discontinuation of gas supplies to Bulgaria is a one-sided act on Russia's part, Vassilev also said. In his words, this comes as no surprise because the same situation was observed in 2009 and in 2014. "As a government, we expected such problems and we began preparing as early as in February," he added.
He said further that the diversification has continued for so long for reasons unknown. "We can provide the passing of some 20 billion cubic metres of natural gas through Bulgaria. We can receive 2 billion cubic metres through the Kulata-Sidirokastro connection and the rest, from Turkey. Bulgaria's consumption is 3 to 3.5 billion cubic metres. Relying on the Greek connection is an excuse to not conduct the diversification, and this excuse has been used for 15 years now," Vassilev argued.
At present, the gas supplies to Bulgarian consumers have not been reduced, Vassilev said. "There is a ship unloading liquefied gas in Greece and there is no problem even without an interconnector [the IGB]. Bulgargaz has a contract on the supply of 1 billion cubic metres a year from Azerbaijan. This gas could be coming at a lower price and could be delivered through the Kulata-Sidirokastro connection. [Former Bulgargaz executive director] Nikolay Pavlov voluntarily turned down 60% of this gas and that is no coincidence," the Minister said, adding that Pavlov's decision costs Bulgaria between 500,000 and 1 million leva a day.
The Interior Ministry has gathered data on this case and has presented them to the prosecution service but the latter has done nothing since then, Vassilev commented. "The gas coming to Bulgaria is now at a 20% higher price, but we are working with the EU to have an even lower price than Gazprom's."
Talks are underway with Italy and Greece for natural gas supplies. Meetings in Brussels are scheduled for Thursday about speeding up common EU purchases, Vassilev also said.
Energy Minister Nikolov
Holding a news briefing on Wednesday morning, Energy Minister Nikolov said that Bulgaria is able to meet the needs of consumers for a month or longer. Alternative supplies are available and Bulgaria hopes that alternative routes and supplies will also be secured at EU level, he noted.
An expert meeting on EU level is due later in the day to plan the next steps, Nikolov said. He added that Poland and Lithuania are in the same situation as Bulgaria.
He explained that Bulgaria received one letter from the Russian side with a proposal for a two-stage payment to grant the Russian demand for payment in rouble, after which Bulgaria sent a letter asking for clarification and warranties. A second letter from Russia did not answer any of the questions.
Bulgaria has a full package of documents proving payment for supplies for this month, and that clearly shows that Gazprom has defaulted on its contract. "Obviously gas is used as a political tool," he said.
"While I am minister and I am in charge of this sector, Bulgaria is not going to negotiate under pressure and give in to pressure," the Minister said.
Speaking to reporters later in the day after the Government's weekly meeting, Nikolov said that there are two important points to consider. "One is that there is an actual confirmation of stopping gas deliveries to Bulgaria. Secondly, Bulgargaz's latest payment to Gazprom has been returned under the mechanism included in the contract," Nikolov said.
Asked where Bulgaria will import gas from, given the current situation, the Minister said he will not provide specific details on the ongoing procedures or tenders to guarantee transparency and allow Bulgargaz to achieve "an optimal price". "Achieving optimal price efficiency depends on having various supply channels, including conventional deliveries through Greece and Turkey or a liquefied gas terminal to balance things and secure the needed gas quantities," Nikolov said.
The situation depends on an unpredictable partner [Gazprom Export]. In terms of commercial and legal relationships, natural gas is used as a tool for exercising economic pressure in time of war, he also said. "We will do our best to achieve maximum price efficiency," Nikolov said.
/DS/
news.modal.header
news.modal.text