site.bta

Ruling Coalition Parties Discuss Inflation-Containment Measures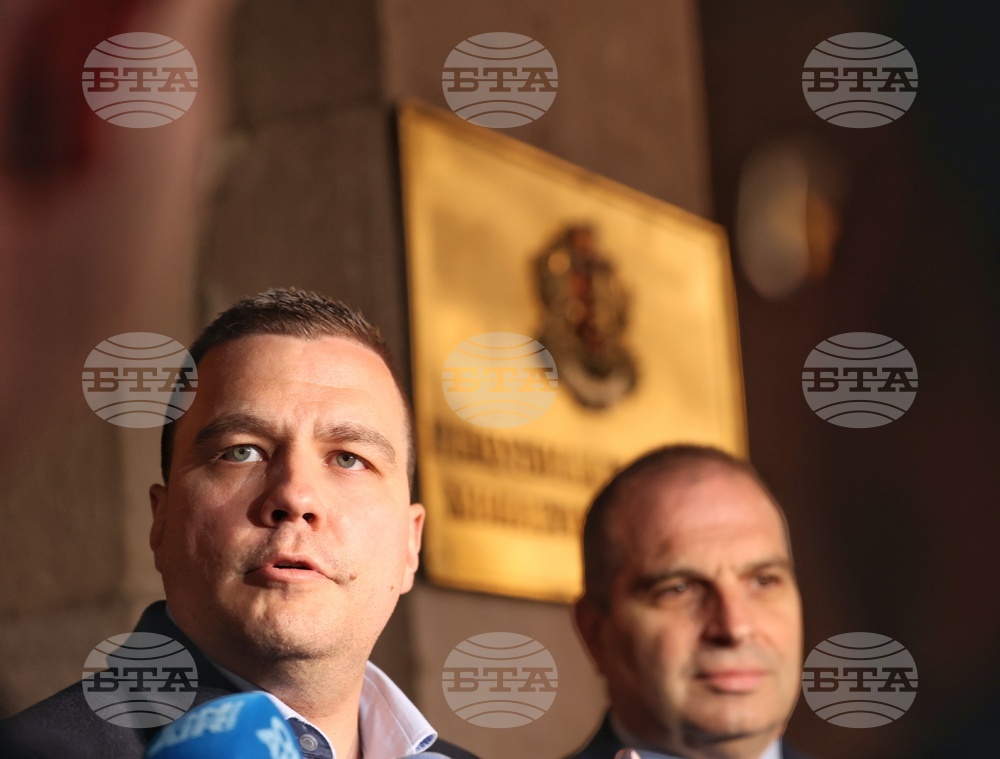 ITN's Stanislav Balabanov (left) and Grozdan Karadjov on their way to the meeting (BTA Photo)
Leaders of the four parties in the ruling coalition met at the Council of Ministers on Tuesday evening to discuss packages of measures that each one of them suggests for getting rampant inflation under control.
Continue the Change list 14 measures worth BGN 2 billion. They include an increase of the minimum monthly pension from BGN 370 to BGN 450, a proportional rise of the rest of the pensions, and setting the maximum pension at BGN 3,400 as from July 1, 2022. The tax relief for working parents will go up from BGN 450 to BGN 600 for one child and from BGN 900 to BGN 1,200 for two children, enjoyable on a quarterly basis. End users will be able to buy up to 50 litres of fuel monthly at a discount of BGN 0.25 per litre. Electricity and natural gas will be exempt from excise duty, and the VAT registration threshold will be raised to BGN 100,000.
Among their 11 measures, There Is Such a People (TISP) propose a cut of the VAT rate from 20 to 5% for natural gas, electricity, heat and water on the basis of the average consumption for 2021, 5% VAT for fruit, vegetable and organic produce growers for two years, 0% VAT for bread and bakery products, and keeping the 5% VAT on books. They prioritize the introduction of a BGN 500 tax threshold as from July 1, 2022. TISP also want the amount invested in fixed assets for the current year to be deductible from the taxable profit and exemption from corporate tax of start-ups for the first three years after their incorporation. The party wants a review of all concession contracts in energy, ore mining, water supply and other areas of strategic importance for national security. As a step towards financial decentralization, TISP propose that 2.5% of personal income tax revenues be transferred to municipalities where self-employment is carried out.
Democratic Bulgaria oppose differentiated VAT rates for goods with non-regulated prices like bread and books. They insist on a VAT cut to 9% for heat, natural gas and electricity. They also want a reduction of the default interest rate and raising the VAT registration threshold from BGN 50,000 to BGN 100,000, which will cost the Exchequer BGN 200 million. Democratic Bulgaria agree to the need of a tax threshold, but argue that its amount should be subjected to a thorough debate.
The Bulgarian Socialist Party propose a 21% rise of pensions, effective July 1, 2022, and a tax threshold equivalent to the minimum wage. They will also press for an increase of the monthly minimum wage to BGN 760, also from July 1, and 0% VAT for bread.
/LG/
news.modal.header
news.modal.text