site.bta

Expats Organize to Help Fellow Bulgarians Back Home and Abroad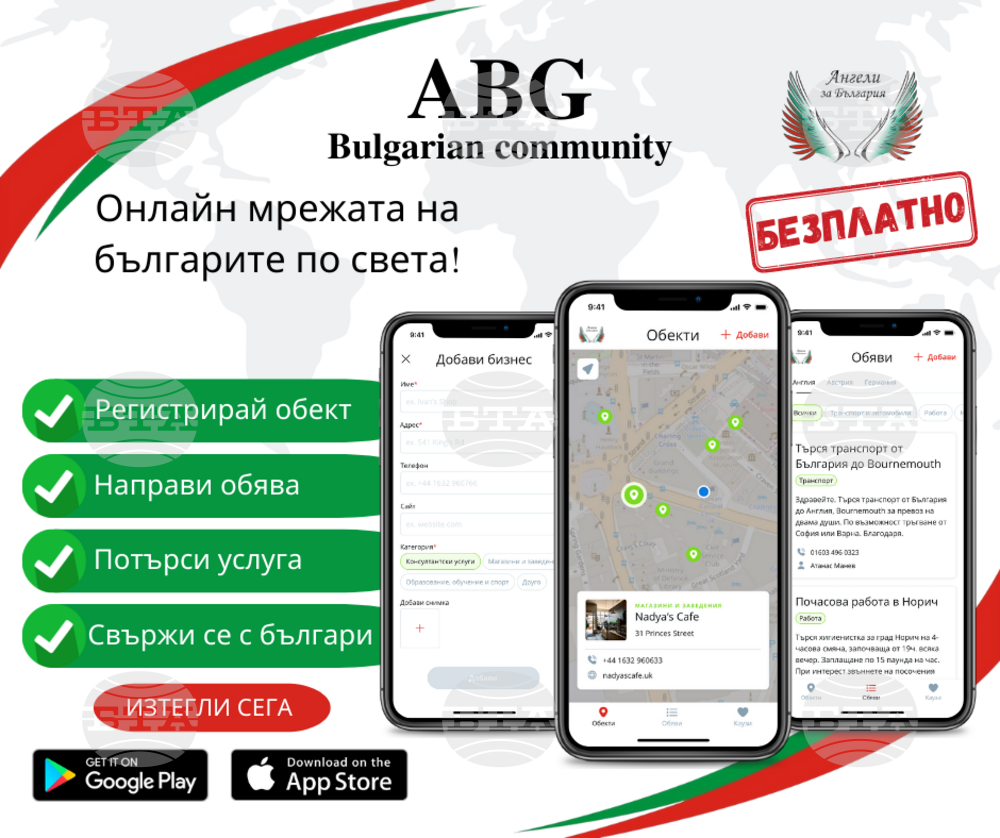 Angels for Bulgaria Photo
No matter where they are, Bulgarians can now use ABG Bulgarian Community, the only one and first-of-its-kind mobile application by which they can connect to compatriots anywhere in the world, find a fellow Bulgarian closest to them to provide a service they need, advertise their own business, post an add, seek advice, or befriend people in their neighbourhood.
The completely free, real-time app comes complete with an interactive map and is already available in the Apple and Google stores. It has been developed by Bulgarian software company Appolica under a project of Angels for Bulgaria and enables users to support the charity's current causes.
Originally set up to pool the efforts of expatriates to help fellow countrymen back home, Angels for Bulgaria have now diversified into helping the other about a million Bulgarians who have settled abroad.
"We Bulgarians keep looking for each other. Wherever we are, we seek something Bulgarian. On social media, time and again we run into queries about Bulgarian goods and shops, as well as about all kinds of services: transport, medical, legal, educational and what not," Angels for Bulgaria Marketing and Advertising Director Anelia Trayanova told BTA.
The organization's CEO, Stella Ivanova, does not claim sole credit for the idea to bring together the hundreds of thousands of expats wishing to help the numerous needy people back home. All she did was start a Facebook group on April 17, 2020, which immediately attracted some 200 followers. It happened in London, during the first COVID lockdown. That's how the Angels began. Since then, the all-volunteer, non-profit operation has raised over BGN 133,000 in donations that have reached more than 2,000 households. The campaigns target lonely elderly people, large and/or poor families, single parents, people with disabilities, unemployed, nursing homes and child care institutions.
The causes are picked by the donors themselves through voting, and they make monthly contributions by automatic direct debit payments. The organization expects small amounts: 2, 5, or 10 euro, dollars or pounds. In this way, more people can donate as much as they can afford.
"The sole purpose of this is to restore people's trust in charity," Ivanova told www.svobodnaevropa.bg in 2020.
The Angels' current causes include raising BGN 50,000 for the flood victims in the area of Karlovo and a specialized medical couch for blind students at Sofia Medical University. Previously, they collected money for a crisis centre for victims of violence, food packages for the elderly in Vidin, and support for Ukrainian refugees arriving in Bulgaria (target amount: BGN 20,000). One of the organization's long-term causes is setting up children's corners in state hospitals countrywide.
The Angels insist to be as honest and transparent as possible and make sure that the funds raised reach the disadvantaged beneficiaries directly and are not spent on fat salaries. Their campaign reports are comprehensive, timely and well-documented. They do not support, work with, or wish to be affiliated with any political and religious entities, discredited individuals and businesses. Their partners in Bulgaria are thoroughly checked and approved.
Angels for Bulgaria have a staff of four, who organize the process on a strictly pro bono basis and even cover some maintenance needs out of pocket. All of them earn a living from another job. Stella Ivanova, for instance, runs a small family furniture business.
"Even if a small part of us unites in this charitable cause, together we will do miracles every month. We are many, we are strong, and we can. We have proven it," the charity says on its website.
/LG/
news.modal.header
news.modal.text