Change of guard
site.bta

Justice Minister Atanas Slavov: It Is Important for Bulgaria to Have a Government that Protects the Rights of Citizens
Justice Mиnister Atanas Slavov (right) and outgoing caretaker Minister Krum Zarkov (BTA Photo)
At his official inauguration ceremony, newly appointed Justice Minister Atanas Slavov, replacing caretaker Minister Krum Zarkov, said that it is important for Bulgaria to have a government that protects the rights of citizens, the rule of law, that respects the laws of the country.
"Therefore, the "handover" of power in the Ministry of Justice is not just a ceremony, but a continuity in causes, policies, bills, which we will defend tomorrow in the parliamentary legal committee," added Slavov.
The Minister pointed out that him and Zarkov were like-minded on the issues of judicial and constitutional reforms, have "fought battles together", and "some of them they even won". Slavov singled out the adopted mechanism for investigation of the prosecutor general, the reform in the election and dismissal process of this position by the Supreme Judicial Council, and the initiated process for the dismissal of Ivan Geshev from the post.
/RY/
Additional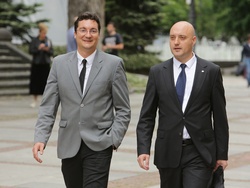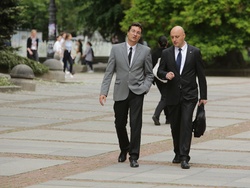 news.modal.image.header
news.modal.image.text
news.modal.download.header
news.modal.download.text
news.modal.header
news.modal.text