BTA Interview
site.bta

Indonesian Ambassador to Bulgaria: We Would Like to Strengthen Our Common Understanding of Culture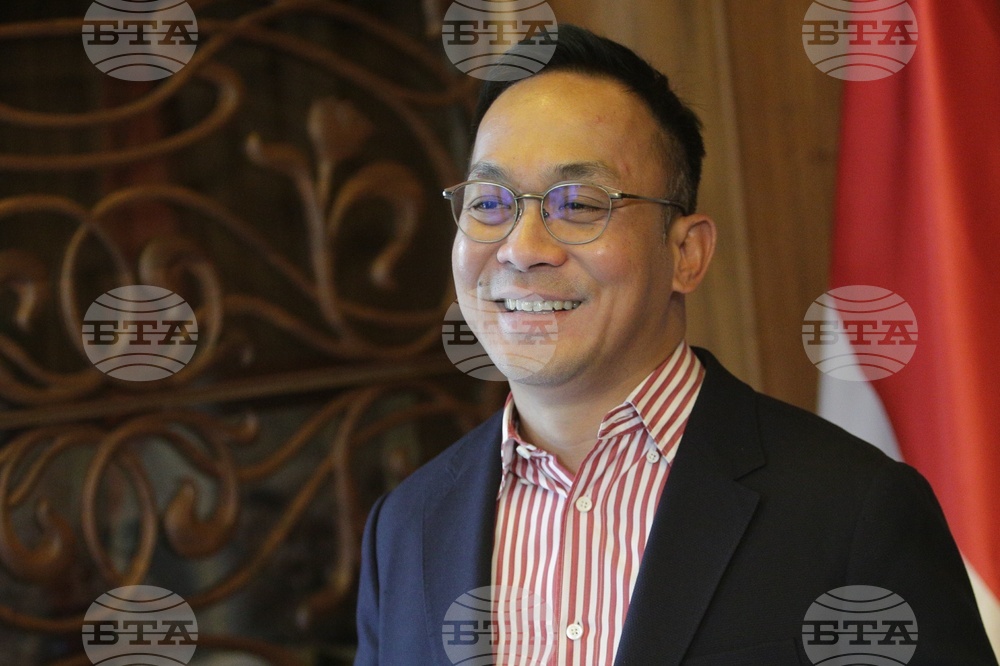 Indonesian Ambassador to Bulgaria Iwan Bogananta (BTA Photo)
"We would like to strengthen our common understanding of culture through the partnership between Bulgarian and Indonesian artists," Indonesian Ambassador to Bulgaria Iwan Bogananta told BTA on Wednesday on the occasion of the concert "Harmonature - in harmony with the nature of Nusantara", which will take place on June 8 at the Antique Theatre in Plovdiv.
Bogananta explained that the concert carries three messages - the first is related to the beauty and diversity of Indonesian culture, the second - to present Nusantara, whose name translates as "archipelago", and the third - to involve the audience in the celebration of friendship between Indonesia and Bulgaria.
The event is under the direction of conductor and composer Erwin Gutawa. There will be an ethnic orchestra with nearly 50 performers from Indonesia, a 3D mapping screening by Jay Subiakto and Taba Sanchabakhtiar. Bulgarian folk singer Petya Paneva will join forces with Indonesian singer Woro Mustiko. Famous Indonesian singers Sandhy Sondoro - winner of the international contest for young pop singers "New Wave" (2009), and Gabriel Harvianto will also participate.
All artists will be dressed in Indonesian batik from the Iwan Tirta collection, while a fashion show by Sejauh Mata Memandang will present the Indonesian textile and lifestyle brand known for its sustainable fabrics. The concert will also feature Pesona Mawar Nusantara ("The Enchanting Roses of the Archipelago"), the only Indonesian dance group in Bulgaria, and Bidadari Dance Studio, an Indonesian dance group from Serbia.
The full transcript of the interview follows:
Mr. Bogananta, "Harmonature - in harmony with the nature of Nusantara" is the name of the concert on June 8, at the Ancient Theatre in Plovdiv. Is there a message that at all costs should reach people through this event?
Yes, there are three messages we would like to get across to the audience through our concert. The first is about the beauty and diversity of Indonesian culture. We will show this through an ethnic orchestra, combined with traditional and modern instruments, and through a 3D mapping show that will combine the beauty of nature and modern technology.
Another aspect in this direction is a fashion show that aims to present the production of batik. Batik is a technique in art and textiles that uses wax to paint fabrics, paintings, eggs, etc. The word is of Javanese origin and a derivative of the words amba ("write") and titik (from Indonesian - "dot"). Sejauh Mata Memandang - an Indonesian textile and lifestyle brand - will be presented in Plovdiv.
Our second message relates to the presentation of Nusantara, whose name translates as "archipelago". Nusantara is a smart and sustainable forest town located on the island of Kalimantan (the Indonesian part of the island of Borneo ). In this new capital there will be complete harmony between nature, people, technology and culture.
And thirdly, we would like to make everyone involved in the celebration of friendship between Indonesia and Bulgaria. Through this partnership between Bulgarian and Indonesian artists during the concert, we would like to strengthen our common understanding of culture.
Last but not least, of course, we would like this to contribute to tourism, to the economy, and to future investments between Bulgaria and Indonesia.
How were the participants selected?
I can say that we have selected the best Indonesian artists. One of the most famous conductors (Erwin Gutawa) will be present, as well as one of our greatest artistic directors (Inet Leimena). Sandhy Sandolo, also a famous singer, will perform a song with the well-known to the Bulgarian audience Petya Paneva.
Pesona Mawar Nusantara is a Bulgarian dance group that was chosen because of its close friendship with our country.
Actually, few Bulgarians know that there are plans for Nusantara to be the new capital of Indonesia. It is not often that a country changes its capital. Tell us more about this idea and what will happen to Jakarta. Will Nusantara take over all the representative and state functions?
As you know, Indonesia is a huge country with a large population. The decision to move the capital from Jakarta to Nusantara was taken after very careful and thorough planning by the authorities. After President Joko Widodo issued a decree to change the capital, the parliament passed a law, construction began in mid-2022 and is still ongoing.
The idea of the new capital is to present Indonesia as a prosperous nation - by 2045. And, of course, to take the country towards a more sustainable development. This will help tackle climate change and contribute to its prevention.
When Nusantara becomes the capital, Jakarta will remain an economic hub and a city of business, economy and tourism.
Could you share which is your strongest bond with Bulgaria?
This is a very good question. My strongest bond with Bulgaria is very special. If we compare the two countries, mine is very populous - almost 270 million people live there. I feel much more at ease here - with the weather, with the mountain landscapes... Besides, Bulgaria will always be special to me because this is my first post as ambassador. Here I learned a lot about negotiating in politics.
My professional experience allows me to see Bulgaria from a different perspective, namely from the business side, and to work on the designation of the ports of Varna and Burgas and their transformation into major hubs. This is my goal during my time here.
You say this is your first diplomatic post. What did you do before that?
My life is like a movie, and it's a very long story. I've always been in the private sector. I started working in show business, doing TV commercials, organizing events, concerts, doing filmmaking. When I was 27, I went bankrupt, and went into a completely different field - energy and mining. Then I was appointed ambassador in Sofia.
What could Bulgaria learn from Indonesia in terms of cultural tourism? Do you think there is experience that can be directly applied in our country?
I think that Bulgaria and Indonesia can learn a lot from each other. Both countries are very effective in promoting their tourism and in making successful campaigns. I think that the partnership will strengthen. When tourism is strengthened, it inevitably affects the economy and its successful development. There are many aspects that are part of the national strategy - to coordinate and promote tourism. This includes central and regional institutions, the business sector, of course, many artists - including, even, influencers, and many others. We all need to participate in this promotion together.
What could make Bulgaria interesting to an Indonesian?
Bulgaria is amazing, as I said before, because you have everything - sea, mountains, skiing, historical sights. It's a complete package.
Also in Indonesia, and especially on the island of Bali, there is a Bulgarian society, which in itself is of interest to local Indonesians. Especially after the end of the pandemic, more and more Bulgarians are visiting Indonesia.
As I have already mentioned, the two ports of Varna and Burgas are in a strategic location, close to Europe. This would also be of interest to business.
The Indonesian language has recently become a compulsory subject in the South, East and Southeast Asian Studies programme at Sofia University. What is the significance of this fact? And do you see opportunities for more contacts between the two countries in the field of education?
The most important thing is that more and more young Bulgarian scholars and students are looking to the East and its importance, and specifically to Indonesia as the largest and most populous country in Southeast Asia, this is increasingly of interest to young people.
Many students visit Indonesia on the Erasmus programme. To date, there are students who have received a full scholarship from the Indonesian Ministry of Education to study Indonesian for a year in Jakarta.
According to data from the end of 2021, trade between Bulgaria and Indonesia amounted to about USD 100 million and continues to grow. What are the current figures and what are the "highlights" of this trade? What are your forecasts?
First of all, our country is one of the largest producers of consumer goods and palm oil. The two major Bulgarian ports can open the way to the Western European market - for imports and exports respectively, as well as for other products such as rubber and paper.
/MR/
news.modal.header
news.modal.text