site.bta

UPDATED

Delyan Peevski Elected to Parliament's Constitutional Affairs Committee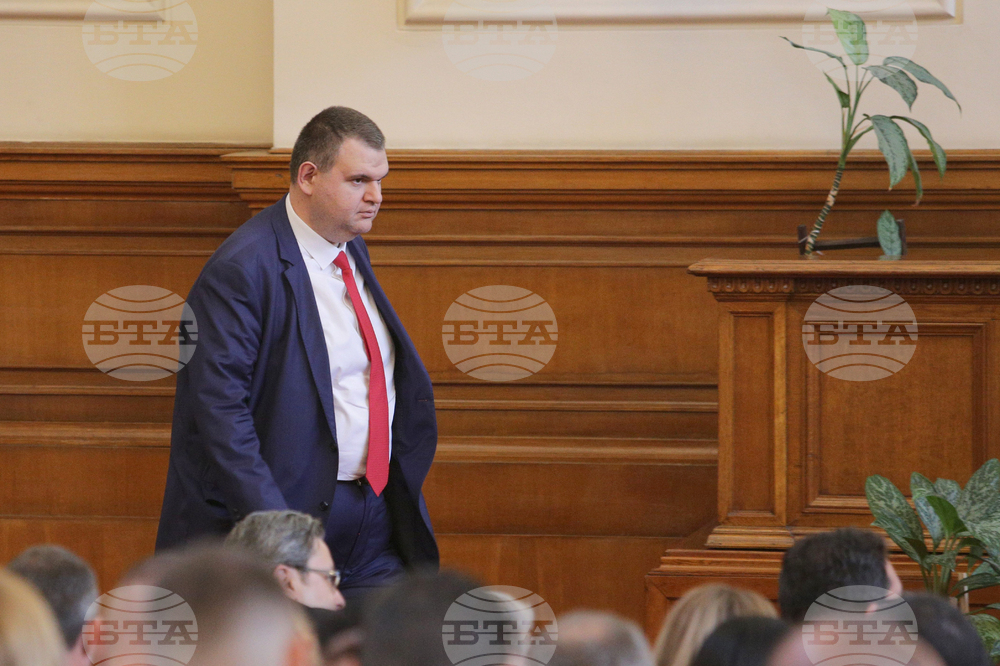 MP Delyan Peevski in Parliament, Sofia, June 6, 2023 (BTA Photo)
MP Delyan Peevski of the Movement for Rights and Freedoms (MRF) was elected Wednesday to the parliamentary Constitutional Affairs Committee by a vote of 109-67, with eight abstentions.
The "for" votes came from GERB-UDF, MRF and There Is Such a People. Continue the Change - Democratic Bulgaria (CC-DB) voted "against" or abstained, as did BSP for Bulgaria and one MP of GERB. Vazrazhdane did not vote.
Peevski will represent his party in the constitutional committee together with MRF leader Mustafa Karadayi.
Who's Peevski
A former business owner and media mogul who went into legislating in 2009 as a representative of the MRF, Peevski has been suspected of exerting undue influence in all power branches, making him an arch-enemy of Democratic Bulgaria and Continue the Change. His appointment in 2013 as head of the State Agency for National Security triggered large-scale protests which forced him to come down after only a day in office and ultimately led to the fall of the Plamen Oresharski government.
In 2021, Peevski was sanctioned by the US under the Global Magnitsky Act for major corruption. The US Treasury Department describes him as an oligarch who has regularly engaged in corruption, using influence peddling and bribes to protect himself from public scrutiny and exert control over key institutions and sectors in Bulgarian society. The Magnitsky Act designation did not have much influence on him at home and initial domestic sanctions on his businesses and himself, aimed to prevent financial detriment to the country from the US sanctions, were ultimately overturned by a court of law as unlawful and inconsistent with EU law.
Iskren Mitev of CC-DB said that the vote would not have gone through had Vazrazhdane voted "against". "Don't judge them by their words but by their deeds," he urged Bulgarian people.
What the parties said about Peevski in the constitutional committee
The opposition grabbed the opportunity to slam the majority for what they see as a brand new alliance between GERB-UDF and CC-DB, on the one side, and MRF, on the other.
Tsoncho Ganev of Vazrazhdane said it was perfectly fine that "MRF and personally Delyan Peevski would demand what is due to them". Turning to the ruling majority of GERB-UDF and CC-DB, he said: "They want you to pay for their support for the government and because you will change the Constitution thanks to them, together with them, with their proposal."
Toshko Yordanov of There Is Such a People (TISP) said that all parliamentary groups are free to nominate whoever they choose for the constitutional committee and that it was not the same as nominating a head of the State Agency for National Security.
Dessislava Atanassova of GERB-UDF voiced surprise over the evolution of views among TISP and said that two Parliaments ago TISP had objections to the nomination of GERB deputies for some commissions for some moral considerations - and they were not elected.
Hristo Ivanov of CC-DB said that the constitutional committee was not like the other committees in Parliament and having a political leader as MRF leader Karadayi among its members carries a risk of excessive politicization of the issue of constitutional changes. "It is exactly for this reason that I am not in this committee," he added. He further argued that the constitutional changes call for a broad accord that would include as many parties as possible, including MRF. "We will seek to discuss the matter with BSP, Vazrazhdane and TISP as well," he said.
Radomir Cholakov of GERB agreed that it is a more special committee, which is why its lineup does not matter as much as it matters to have a consensus.
Socialist leader Korneliya Ninova said that nobody has discussed a constitutional majority with her group. Using a metaphor that is recurrent in her rhetoric, she said that BSP "is not going to be a spare wheel for your scooter". "We don't like your backstage deals and we won't be part of it but we will be open for normal, principled and statesmanlike discussions on the future of Bulgaria," she said.
What is "constitutional majority"
Under Article 155 of the Bulgarian Constitution, amending the Constitution requires a majority of three quarters of the votes of all MPs (which is 180 MPs) in three ballots on three different days. A bill of constitutional amendments which receives less than three quarters but more than two-thirds of the votes of all MPs is eligible for reintroduction for a new vote after no less than two months and no more than five months. This time the revisions will need to be backed by a majority of two-thirds of the votes to pass.
/NF/
news.modal.header
news.modal.text