site.bta

VP Iotova Discusses Bullying at School, Need for Reform of Education System with Young People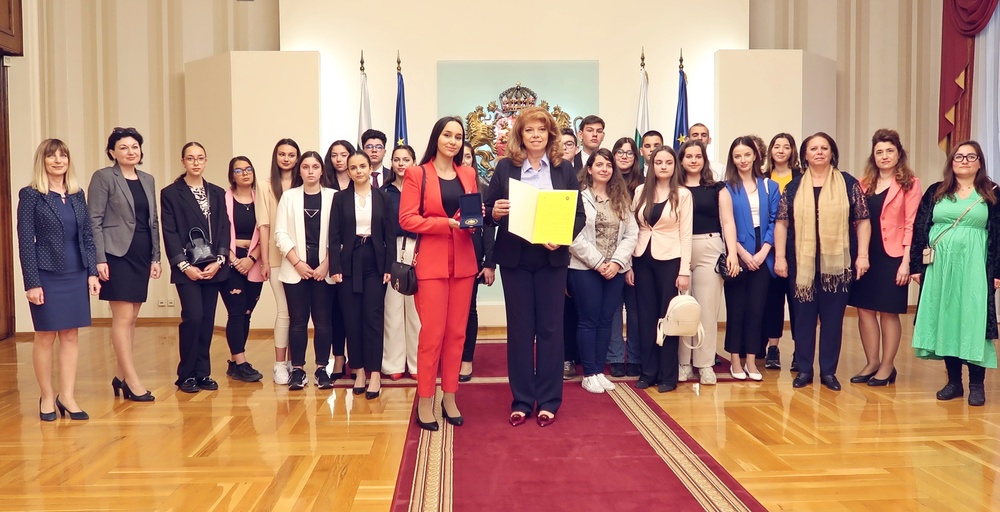 VP Iliana Iotova during talks with members of the Children's Council and the SACP leadership, June 1 (Presidential Press Secretariat Photo)
Vice President Iliana Iotova awarded the Chairman of the State Agency for Child Protection (SACP) with a Vice President's honorary plaque in recognition of the active work in defending the rights of children and improving their lives and on the occasion of the 20th anniversary of the Children's Council, the presidential press secretariat said on Thursday.
Iotova held talks with the members of the Children's Council and the SACP leadership. The meeting discussed a range of issues that concern children, such as the physical and mental bullying in schools, the need to reform the education system and topics on Bulgaria's political agenda.
"On June 1, I always make a wish for myself - to live so that the child I once was is not ashamed of the adult I am today," Iotova said.
The Children's Council presented the Vice President with an address on the occasion of its 20th anniversary and the International Children's Day. "Very often our opinion is underestimated. We are convinced that we all need to change this together, because children do not just want to talk, but to be heard in order to find the best solutions for the things that concern us," they wrote.
"We, children, want to say that we have the right to be happy, to be protected, to learn, to play, to dream! To dream that, besides a Council of Children, there is also a world of children - a world where curiosity, patience and selfless love reign... Every child needs to see around him examples of how to be compassionate, to respect each other, to believe in oneself, to give a hand to the weaker and to learn from the better," the address added.
The Children's Council was established in 2003 as an advisory body to the SACP President. Its aim is to promote children's participation in decision-making processes related to children's lives and development. The Council includes representatives of the 28 administrative districts in Bulgaria, children from vulnerable groups and children who have received international protection in Bulgaria.
International Children's Day has been celebrated since 1925 in accordance with a decision of the World Conference on the Welfare of Children, with the participation of 54 countries, held on the same year in Geneva, Switzerland. At that time, a Declaration on the Rights of the Child, regardless of race, nationality or religion, was adopted.
/LG/
news.modal.header
news.modal.text