site.bta

New Edition of Bike and Run for Chepan: Adrenalin with a Cause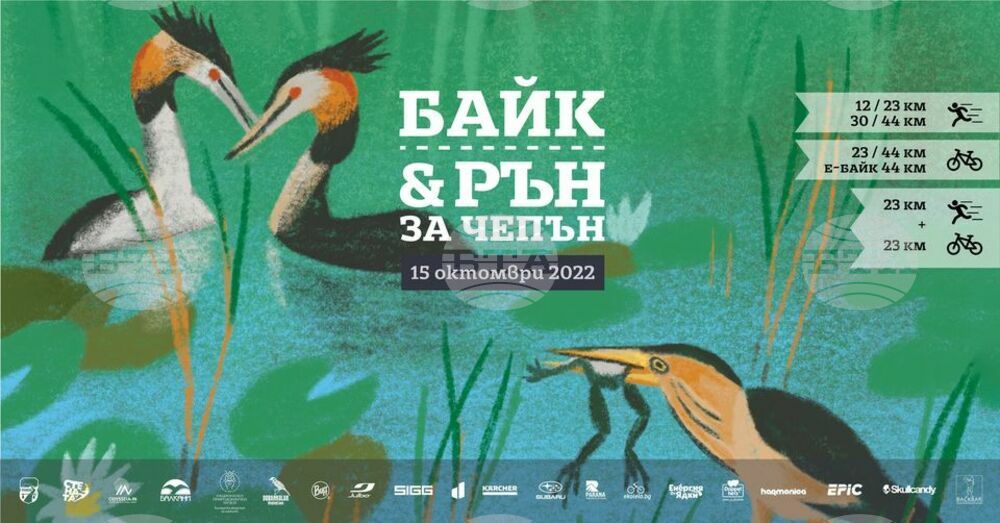 The Bike and Run for Chepan poster for the 2022 edition
The 11th edition of Bike and Run for Chepan will be held on October 15. Offering mountain running and mountain biking competitions, the annual event aims to facilitate the development of Dragoman Municipality, near Sofia, and to enable more people to discover the variety of bird species living around the Dragoman Marsh, the organizers said.
This year's competition includes five events: a 12-km run, a 23-km run or 44 km cycling, 30 km cycling, a 23+23-km running and cycling duathlon, and 44 km cycling. The events will be based around the town centre, the Dragoman Marsh, and Petrov Cross Peak.
The organizers have included a Mini Bike and Run event, which will allow children to compete in three events - running, riding a bike and a kick scooter.
The forum supports environmental causes under the motto "Adrenalin with a Cause". It raised over BGN 3,200 in 2020 to mitigate the damage from a fire near the Dragoman Marsh. The following year, it contributed more than BGN 4,000 to the "Let's Preserve Bulgaria's Centenarian Trees" campaign.
This year's Bike and Run for Chepan will continue to support Bulgaria's centenarian trees, but it will add another cause to its list of sponsored initiatives as well - the Durankulak Bird Ringing Camp, which aims to research and protect the local birds. The Camp organizers include the National Museum of Natural History and the Institute of Biodiversity and Ecosystem Research at the Bulgarian Academy of Sciences. Half of all proceeds from the bandana especially designed for this year's competition will be donated to the Durankulak Bird Ringing Camp.
The Dragoman Marsh
It is a Ramsar site. Situated between the Serbian border and the Bulgarian capital Sofia, Dragoman Marsh Karst Complex is described in the Ramsar register as the only limestone marsh in Bulgaria, and one of the biggest of the Balkan Peninsula. A unique variety of wetland types is found in the Complex: it contains karst marshes, wet meadows, peatlands, human-made lakes and fishponds. Because of this variety, the Site is biodiverse, hosting 256 bird species, 9 reptiles, 23 mammals and 180 vascular plant species. The bird species there represent 61% of the bird variety in Bulgaria. From the 1930s onwards, the wetland was almost completely drained, including through the construction of channels and pumping stations. However, in the 1990s these activities ceased, and the Site started getting quickly restored, remarkably regaining most of the species that had abandoned its habitats. Despite this recovery, discharge of untreated wastewater, quarrying activities and land conversion still represent significant threats.
/NF/
news.modal.header
news.modal.text