site.bta

Bulgarian Head of State, Moldovan PM Discuss Bulgaria's Assistance for Strengthening Moldova's EU Path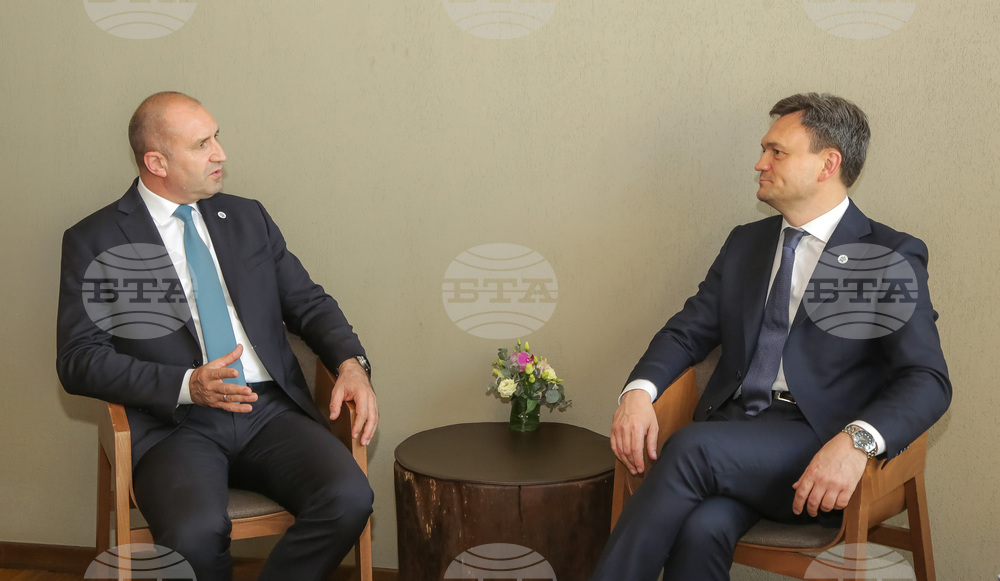 Bulgarian President Rumen Radev (left) and Moldovan Prime Minister Doran Recean (Bulgarian President's Administration Photo)
Meeting here on Thursday, Bulgarian President Rumen Radev and Moldovan Prime Minister Doran Recean discussed Bulgaria's assistance for strengthening Moldova's European path and the role of the Bulgarian community in Moldova as a bridge of understanding and mutual trust between the two countries, Radev's Press Secretariat said Thursday. The talks were held within the European Political Community Summit in Moldova.
During the talks, Radev noted Bulgaria's support for the strategic path of EU integration of Moldova, as evidenced by the agreement the two countries signed during Radev's visit to Moldova last year that guarantees the country's access to the Bulgarian gas transmission network. Bulgaria thus aids Moldova's energy security, providing an opportunity for diversification of gas supplies. Recean expressed gratitude for Bulgaria's help in a critical period for Moldova.
Radev also said that in 2022 alone, Bulgaria provided EUR 1.4 million for various projects of big social and economic significance for Moldova.
Radev and Recean underscored the excellent bilateral relations and the ambition for their further development. They agreed that the ethnic Bulgarians in Moldova are loyal citizens and contribute to the country's cultural richness. The Moldovan Prime Minister noted that his country is trying to preserve its multi-ethnic character, and Bessarabian Bulgarians are highly valued. He gave as example two ministers in the Moldovan government who are ethnic Bulgarians from Taraclia.
Radev once again underscored Bulgaria's expectation that Taraclia's administrative integrity and autonomy will be preserved, in light of the Bulgarian community concentrated there. Recean said that the reform will not be conducted without reaching an agreement with the Bulgarian community.
The President also noted his country's efforts for guaranteeing Bulgarians' autonomy in a way that they can contribute actively to Moldova's social and economic development. Bulgaria has undertaken research conducted by leading Bulgarian universities about the prospective specialties to be included on the programme of the Gregory Tsamblak State University of Taraclia. That will attract young people who will develop skills corresponding to the contemporary requirements of economy and education. "The Bulgarian community in Moldova, numbering some 60,000 people, is a key element in the bilateral relations, and we rely on the guaranteeing of appropriate conditions for the diaspora to preserve their national, cultural, and linguistic identity," Radev said.
/DS/
news.modal.header
news.modal.text