site.bta

Academies of Sciences of Bulgaria and Kazakhstan Sign Memorandum
Julian Revalski and Kunsulu Zakarya (BTA photo)
A Memorandum of Cooperation between the Bulgarian Academy of Sciences (BAS) and the National Academy of Science under the President of the Republic of Kazakhstan (NASRK) was signed in Astana on Thursday. BAS President Julian Revalski and NASRK President Kunsulu Zakarya affixed their signatures to the document.
Prof. Zakarya led the team that developed the Kazakh vaccine against COVID-19, which was used massively in the country.
The signing ceremony in the Kazakh capital was also attended by Bulgarian Ambassador Boyan Hadzhiev.
Earlier in the day, Revalski and Zakarya discussed opportunities to deepen cooperation between the two institutions in the field of biotechnology, the agricultural sciences, mathematics, material science and nuclear physics, among other areas.
Revalski told BTA that the memorandum provides for mechanisms to draw up joint projects which will involve scientists from the two countries and will be co-financed by Sofia and Astana.
Revalski invited NASRK representatives to visit Bulgaria at their earliest convenience.
/RY/
Additional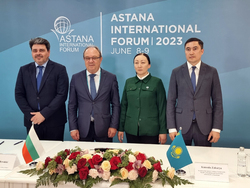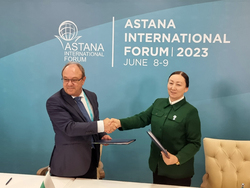 news.modal.image.header
news.modal.image.text
news.modal.download.header
news.modal.download.text
news.modal.header
news.modal.text