site.bta

Memorial Plaque of Journalist James Bourchier Erected in His Irish Hometown on Bulgarian Embassy's Initiative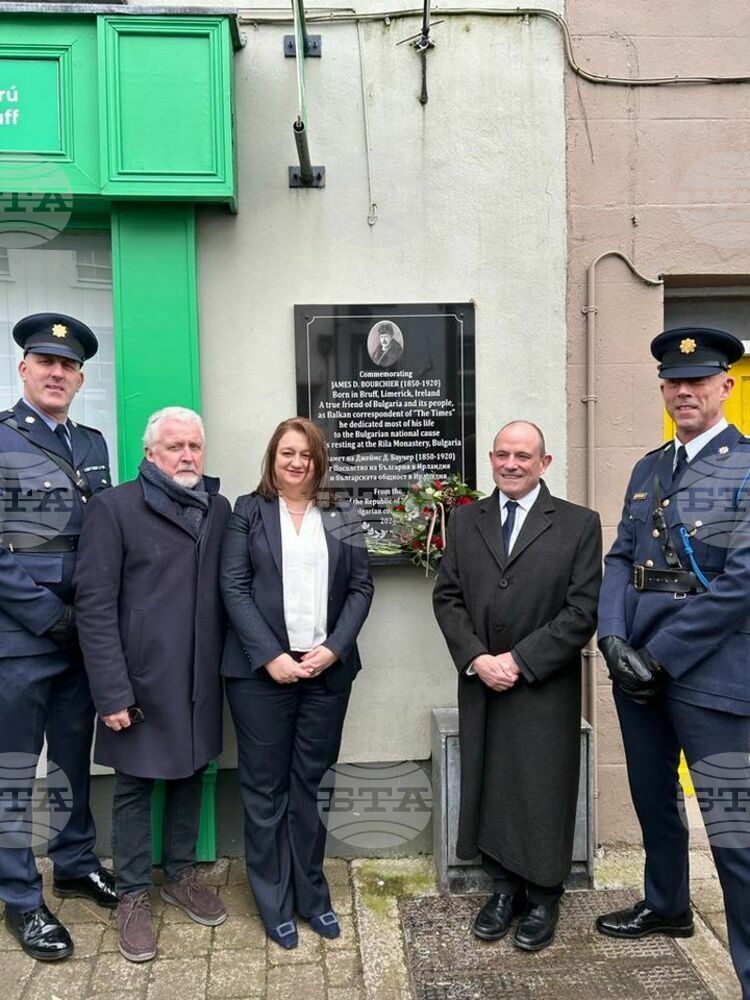 The memorial plaque in Bruff unveiled (Bulgarian Embassy Photo)
A memorial plaque of journalist James Bourchier was unveiled in his native Bruff, County Limerick, Ireland, the Bulgarian Embassy in Ireland said in a Facebook post Monday. The plaque was erected on the initiative of the diplomatic mission following meetings of Ambassador Gergana Karadjova with the local authorities in 2022.
The plaque is placed on the facade of the Post Office on the central street in Bruff. It designed by the Bulgarian Embassy in Dublin, with the most emblematic official portrait of Boruchier on black marble and a bilingual inscription framed with oak branches below.
Ambassador Karadjova, the first Irish ambassador accredited to Bulgaria, Geoffrey Keating, and Pat Heyes from Bruff Heritage Group addressed the people who had gathered for the event.
The new memorial is yet another symbol of the excellent Bulgarian-Irish relations, Karadjova said, outlining Bourchier's place into the collective memory of Bulgarians who won their appreciation with his correspondences and position at a key historical moment.
The event was also attended by local dignitaries, principals and pupils from the local Irish schools. The Bulgarian community in Ireland was represented by the principals of the Bulgarian schools in Dublin and Shannon, as well as lecturers in Bulgarian language and literature at the Trinity College Dublin.
James David Bourchier (December 18, 1850 – December 30, 1920) was an Irish journalist and political activist. He lived in Sofia from 1892 to 1915. Bourchier was an honourable member of the Sofia Journalists' Society. He acted as an intermediary between the Balkan states in the beginning and at the conclusion of the Balkan Wars of 1912-1913. After his death in December 1920, James Bourchier was buried by Rila monastery, Southwestern Bulgaria, the only foreigner allowed to be buried there, on behalf of the grateful nation.
/RY/
news.modal.header
news.modal.text