site.bta

Media Review: June 8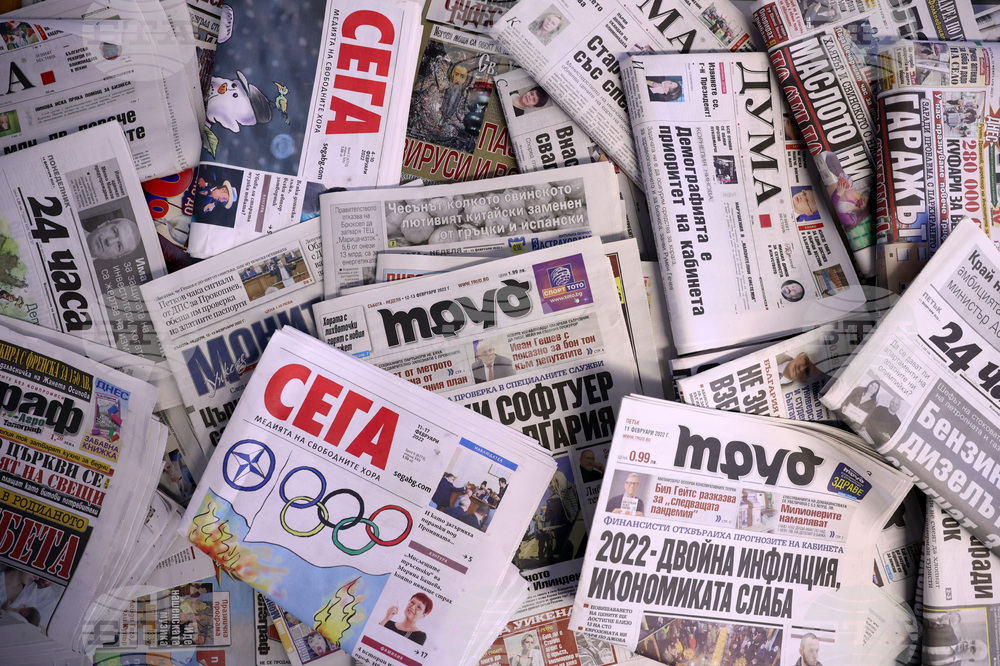 BTA Photo
The news media focus on the election of Delyan Peevski MP of the Movement for Rights and Freedoms (MRF) to the Constitutional Affairs Committee and the options for a 2023 budget.
POLITICS
On Wednesday, Peevski gained a new position in Parliament as a member of the committee which will draw up revisions to the Constitution. He was voted in by GERB, the MRF and There Is Such a People (TISP) with the help of Vazrazhdane, whose MPs did not vote. Peevski replaced another MP of the MRF, who had been elected to the committee only recently.
Mediapool.bg says many find it surreal that Peevski will have a hand in the constitutional reform of the judiciary. Clearly, he is obsessed with acting as the savior of sectors he has ruined. He did this through a media law he proposed at a time when he was the owner of a media empire, and through the amendments to the Bank Bankruptcy Act, which were ostensibly designed to prevent a second plunder of the failed Corporate Commercial Bank (Corpbank) but were declared unconstitutional.
24 Chasa stresses that Continue the Change - Democratic Bulgaria (CC-DB) voted against Peevski's membership, although the coalition is seeking the MRF's support for a revision of the Constitution. DB co-leader Hristo Ivanov is not a member of the Constitutional Affairs Committee, but MRF leader Mustafa Karadayi is. Ivanov said political leaders should not join it to avoid unnecessary politicization.
In a bTV interview on Thursday, Daniel Lorer MP of CC-DB said his group was against Peevski's membership of the committee and its voting "abstain" was just a nuance of that position. Lorer said it is the rule of law that is important, not the parties, not the MRF, not Peevski. It is important that the law works equally for everyone. "We are aware of the enormous sacrifices we have to make," he said. He called Vazrazhdane a "fake party", which actually backed Peevski's nomination.
Interviewed on Bulgarian National Television (BNT) on Wednesday evening, Toma Bikov MP of GERB-UDF said that by voting in favour, his party did not lend Peevski confidence but acted in keeping with a parliamentary practice of the last 30 years, namely, lending support to the parties' proposed candidates. He added that each party is responsible for its nominees. The realistic timeframe for constitutional amendments is six months. For now, only the MRF has submitted proposals, Bikov said.
In a BNT appearance on Thursday, Ivaylo Valchev MP of TISP said Peevski's election to the parliamentary committee could not be compared to his election as chairperson of the State Agency for National Security 10 years ago, which triggered massive protests leading to his replacement. If it had not been Peevski, Wednesday's replacement would have gone unnoticed, Valchev said.
A headline in Duma claims Vazrazhdane "appointed" Peevski to write the Constitution, stressing that the MP was designated under the Global Magnitsky sanctions programme [in 2021].
Interviewed on Bulgarian National Radio (BNR), Yordan Ivanov MP of CC-DB urged the MRF to rethink its decision on Peevski's membership of the Constitutional Affairs Committee, which could block its work. CC-DB is faced with major tasks, including the governance programme, the law-making programme and the constitutional reform. Resolving the political crisis will take its toll on the parties and politicians, said Ivanov. On some matters GERB is likely to vote with the groups with which it failed to form a cabinet on the first mandate, but GERB will pay a high price if it keeps working in this manner. Ivanov also argued that the regular government should start by auditing the caretaker cabinet's performance.
Lawyer Emil Georgiev from the Justice for All initiative told BNR that Peevski and the MRF seem to want very much to legitimate themselves through the constitutional reform. Justice for All warned CC-DB in an address that they were about to cross a very thick red line, and urged the coalition not to allow the overarching issue raised by both CC and DB - judicial reform through constitutional amendment - to be usurped by one of their main political foes, and even more so by a person who is not known for any particular professional qualities or legal expertise, especially in constitutional law, and does not evoke a positive attitude.
***
Following Peevski's election, Yavor Bozhankov of CC-DB took the floor to explain why he had voted against but was surrounded by vociferous MPs of Vazrazhdane. The group has vowed to prevent him and another MP of CC-DB from ever speaking in Parliament after taking affront from earlier statements they made.
Mediapool.bg says that besides Peevski, Vazrazhdane leader Kostadin Kostadinov also seems obsessed with the idea of usurping power "through openly subversive methods (backed by President Rumen Radev and his services)". Vazrazhdane is obviously set on a course of escalating tension in Parliament and elsewhere, to create an impression of chaos and discredit Parliament and the government.
COMMENTS ON THE NEW CABINET
Talking on BNT, Bozhidar Bozhanov MP of CC-DB said it is not enough to have a regular cabinet and reinstate the role of Parliament enshrined in the Basic Law. To restart the statehood, Parliament needs the three-fourths or two-thirds majority required to revise the Constitution. "Having elected this cabinet, we have not solved the political crisis, we have made it possible to resolve it through constitutional revisions," he said, adding that the latter will be discussed with all political forces.
Asked if GERB will have deputy ministers in the Nikolay Denkov cabinet, Toma Bikov said in his BNT interview on Wednesday that GERB is not governing together with CC-DB and will not bear political responsibility with them. GERB is only responsible for foreign policy since Mariya Gabriel is the foreign minister (besides being the only Deputy Prime Minister).
ECONOMY AND FINANCE
On Thursday, Parliament is debating a decision which is to allow state spending and transfers within the limits of the collected revenue, BNR reported. Finance Minister Assen Vassilev said the policies planned in the budget would be discussed with the ministers in the next two weeks so as not to exceed a 3% budget deficit. Thursday's decision will buy time for drawing up the 2023 State Budget Bill. Vassilev denied allegations that the state is bankrupt, saying that there are BGN 10 billion in the state coffers, andpromised that the new budget would be adopted by July 31.
Interviewed by 24 Chasa, Petar Ganev, Senior Economist at the Institute for Market Economics (IME), says it is good that the two major parties, GERB-UDF and CC-DB, are working towards a 3% budget deficit target, though it still is a large deficit of BGN 5 or 6 billion. IME suggests two economic and three social measures. First, setting a limit on capital expenditures and a larger dividend payable by state-owned companies. Second, given that Bulgaria still does not have a budget for 2023, the bigger pensions and the teachers' pay rise could be paid from October instead of from July, and VAT preferences could be scrapped. It will be interesting to see where a balance will be struck when GERB insists on capital expenditure programmes - more motorways and larger investments, and Continue the Change is more set on social programmes.
Asked by Nova TV if a 3% budget deficit is possible without a tax rise, economist Georgi Angelov said this is a perfectly achievable target. Currently the deficit is 0.6%, and that is before the annual profits tax and the one-off surplus profits tax in the energy sector have entered the Treasury. The budget will be practically balanced in the first half of the year. In the second half, with sufficient tax compliance and some of the capital expenditure projects put off until next year, the budget will be balanced too.
Answering the same question on Nova TV, Bulgarian Industrial Capital Association Chairman Vasil Velev said Bulgaria needs to return to normality and restore macroeconomic and financial stability. Its economy will continue to grow, albeit at a lower rate, but still higher than the EU average, as forecast by the European Commission. At the same time, the projected deficit is far above the EU average.
In a BNT interview, financial expert Lyubomir Karimanski said the new government has not presented a governance programme. It should make clear what policies will be implemented through the budget it will submit. At present, expenditures are increasing at a pace faster than revenues, which is a cause for concern. It is likely that Rumen Spetsov was reinstated as head of the National Revenue Agency in the hope that he will increase revenues. However, last year revenues increased on the back of higher import prices, which is no longer the case.
Duma leads on Parliament's rejection of an increase in the minimum wage as of July 1, 2023 instead of January 1, 2024, as proposed by BSP for Bulgaria. Socialist Party leader Korneliya Ninova said an "anti-social majority of all other parties" voted against a minimum wage of BGN 850 (up from BGN 780 now) for 500,000 working poor from July 2023.
24 Chasa leads on the news that just 284,808 pensioners, most of them Sofia residents, draw pensions over BGN 1,000. There were roughly 2,030,000 pensioners in Bulgaria at the end of 2022.
JUSTICE
Trud reports on its front page that the Legal Affairs Committee approved on first reading a Natural Persons Bankruptcy Bill introduced by the caretaker cabinet. The bill is part of Bulgaria's commitments under the National Recovery and Resilience Plan and must be adopted before the next instalment of funding is released. Only people with debts exceeding 10 minimum wages will be eligible to apply for bankruptcy and have part of their debt forgiven. The law will not apply to people with small debts, the liberal professions and craftspeople. If a person files for bankruptcy and is approve by the court, a rather lengthy procedure will be launched to sell off his assets, which must be sufficient to pay at least 30% of his debts, as well as to pay a trustee. At least three years must pass during which the trustee in bankruptcy sells off his assets, and only then any remaining debt will be forgiven. Debtors without assets will have to wait at least six years before their debts are forgiven.
WEDNESDAY'S QUAKE IN PLOVDIV
Interviewed by Radio Plovdiv, Prof. Nikolay Miloshev, Director of the National Institute of Geophysics, Geodesy and Geography with the Bulgarian Academy of Sciences, ruled out a link between Wednesday's magnitude 4.7 quake centred near Plovdiv (South Central Bulgaria) and the quakes in Vrancea, Romania, and in Turkiye. Plovdiv is a seismically active region and the quake was felt vertically because the city is close to the epicenter. Several aftershocks were below magnitude 2 and were not felt by people.
/DD/
news.modal.header
news.modal.text