site.bta

UPDATED

Sofia Hosts STOP HATE SPEECH International Conference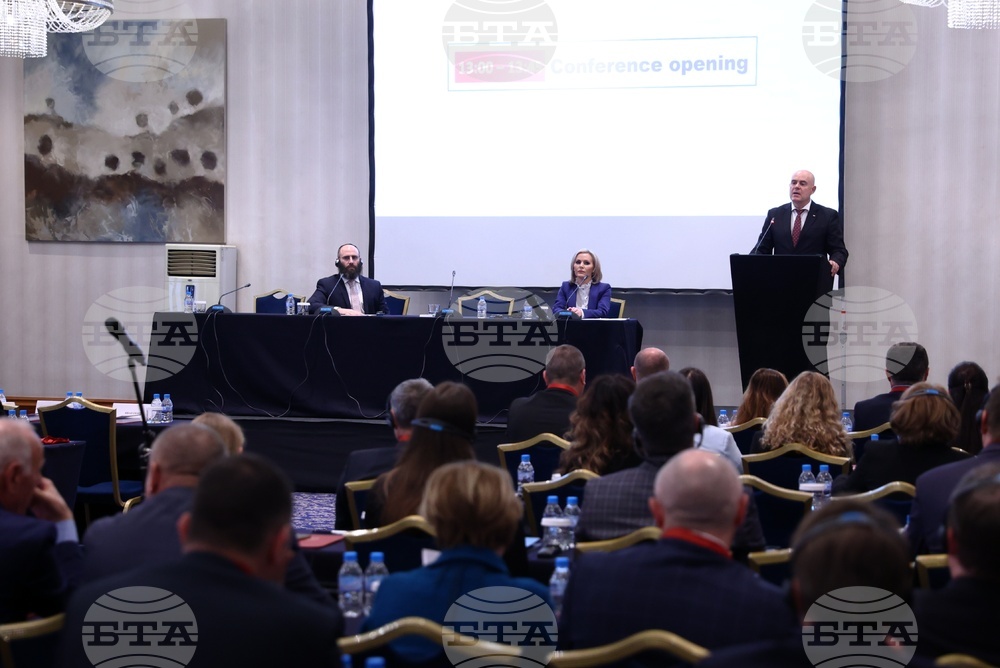 BTA Photo
A two-day international conference, titled "STOP HATE SPEECH", opened here on Monday.
"In recent years there has been a resurgence of anti-semitism and xenophobia," Prosecutor General Ivan Geshev said at the opening of the event.
Cases of discrimination based on gender, sexual orientation, infringement of minority rights and other anti-democratic tendencies are on the rise. Hate speech leads to all of them, according to Geshev.
According to him, Bulgaria sets a positive example of minority coexistence, as there are places of worship of different religions in the centre of Sofia.
"After Russia's aggression in Ukraine, it seems we are not learning from history. Action is needed to prevent a repeat of the Holocaust," Ivan Geshev said.
"Hate speech endangers societies and democracy," Vice President Iliana Iotova said in her address to the conference. "The Holocaust did not begin with the gas chambers, but with hate speech against a minority," she noted, adding that the media and social networks also play a role and can counter this process.
Punishment is an important tool, but it cannot be enough, Justice Minister Krum Zarkov said. He pointed out that the caretaker government recently submitted to the National Assembly texts proposing that a wider range of crimes be punished more severely for racist or xenophobic motives.
A greeting from the Patriarch, delivered by Bishop Polycarp of Belogradchik, said the church is calling for nipping hate speech in the bud. The Bulgarian Orthodox Church advocates for the introduction of religion in school, which is the right place and time for bringing up future generations and teaching them the value of peace, dialogue, and understanding, Bishop Polycarp said.
"Hate speech and anti-Semitism do not exist where logic lives," said Rabbi Menachem Margolin, President of the European Jewish Association.
According to him, hate speech thrives among people who dislike themselves. It is easy to hate Jews because a politician has designated them a common enemy. Those who hate themselves, if there are no Jews to hate, will hate someone else, Rabbi Margolin pointed out.
The fight against hate speech is an essential commitment of the rule of law to protect public peace, said the representative of the Supreme Judicial Council, Boyan Magdalinchev, adding that hate speech not only affects victims but undermines the foundations of democratic society. Over the past decade, the problem has become increasingly important, Magdalinchev said.
"In recent years we have witnessed more and more manifestations of aggression and intolerance towards different minority or ethnic groups, and homophobia. Such acts create insecurity, undermine trust in institutions and destroy social cohesion," said Supreme Court of Cassation deputy chair Lada Paunova. There is a need for workable models for allocating responsibilities between different institutions, civil society, and minority groups to prevent hate speech. This is the only way to quell the feeling of impunity, she said.
The fight against hate speech ranks high in Bulgaria's foreign policy priorities, Deputy Foreign Minister Velislava Petrova said. She stressed that new technologies and social networks create new opportunities for the spread of hate speech. The abundance of unverified and purposefully manipulated information, the lack of critical thinking, deepens the problem, Petrova said. "Decades of hate speech against Bulgarians in the Republic of North Macedonia have started to turn into hate crimes. This can be avoided with timely and adequate action by the relevant institutions. This should be our goal, and this is the call we are making," she added.
Raising awareness and working against hate speech is extremely important, said Ilhan Kyuchyuk, member of the Renew Europe Group in the European Parliament at the opening of the conference. "Hate speech plays an erosive role among citizens. Fighting it is important for our democratic societies," said Ilhan Kyuchyuk, adding that minority rights are the meaning of the EU.
In his opinion, there are more and more attempts to replace the ideas of unity and multiculturalism with the disintegration of society, and hate speech is sometimes used even at the institutional level. "History has clearly shown that hate crimes are not crimes against an individual, but a danger to our European way of life," Kyuchyuk further pointed out.
According to Adrian Vazquez Lazara, Chair of the European Parliament's Legal Affairs Committee, there is still no single definition of hate speech in the EU, and it remains a serious threat. The Internet is a vast field of new possibilities, fake news is widespread. Hate speech has severe mental health consequences. About 84% of anti-Semitism on the Internet goes unpunished, he said.
More needs to be done at the European level against hate speech, said chair of the European People's Party (EPP) in the European Parliament Manfred Weber in a video address to the conference. According to Weber, joint action at the European level against this problem will be more effective in tackling it than each country making efforts individually. He pointed out that hate speech often precedes much more serious crimes and added that several resolutions have been adopted on the subject at the EU level. In his opinion, in addition to law enforcement, the whole of society must be involved in the fight against hate speech.
Children are being taught on their PCs how to use violence through video games, Grand Mufti Dr. Mustafa Hadzhi said. According to him, this is how hatred is inflicted on children and everyone needs to stand against this. Restricting rights will not lead to more peace, he said, adding that when religious values disappear, human values disappear, and so there is a danger of humanity disappearing.
Dr. Alexander Oscar, chairman of the Shalom Organisation of Jews in Bulgaria, said that people and institutions must work together to ensure that society in Bulgaria and in Europe actively opposes hate speech, because sooner or later it turns to physical abuse. Any such manifestation must be prosecuted. "Let us not remain indifferent when hateful ideologies take away our future," he urged.
Programme manager and Co-secretary to Expert Committee on Combating Hate SpeechMeno Ettema justified the need for a common European definition of hate speech. He stressed that some national authorities have already set up special units to combat hate speech.
Senior Prosecutor and Head of the North Rhine-Westphalian Central Cybercrime Department Markus shared his experience in investigating hate speech crimes and stressed that nowadays they are mainly related to the online space. In his opinion, the topic is sensitive, as the authorities should only counteract violations of the law without allowing "persecution of the opinion" of the people.
Lithuanian Prosecutor General Nida Grunskiene said that criminal policy should not be the only tool to counter hate speech, but that more social and educational measures are needed.
Deputy Public Prosecutor of Serbia Tamara Mirovic, Head of the Prosecutor's Office of Odessa in Ukraine - Ukraine Sergey Kostenko, and chief prosecutors from Slovakia and Slovenia also shared their experiences in the discussion.
The event, organised by the Prosecutor's Office of the Republic of Bulgaria and the European Jewish Association, was attended by chief and supreme prosecutors from countries of the European Union and the region, senior clergymen from different faiths, representatives of state institutions, NGOs, academics, human rights defenders, as well as civil activists. The main objective of the conference is to create a platform for the exchange of experiences and good practices that will help to effectively and timely counter xenophobic, anti-Semitic, and discriminatory acts, incitement, and perpetration of hate crimes.
/LG/
news.modal.header
news.modal.text