site.bta

How a French Inventor Made a Home in Bulgaria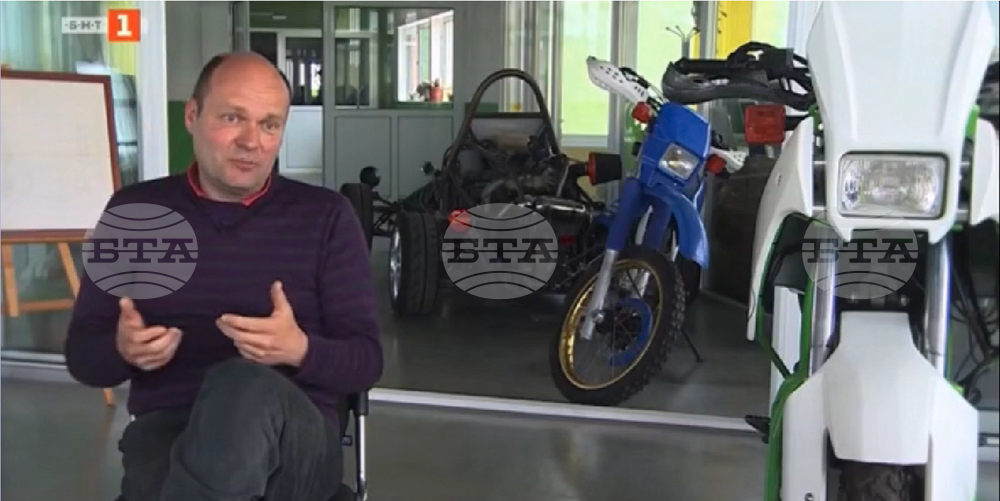 Sylvain Assalit interviewed in the documentary (Image: Bulgarian National Television)
He was born in France, lived in Mexico, and eventually settled in Bulgaria. Here, in the village of Sandrovo, in the Danubian region of Ruse, he carries out experiments and makes inventions with racing motorcycles and cars. His fascinating story was brought to the Bulgarian audience earlier in July, when National Television aired an episode of the documentary series Europeans, supported financially by the EU.
Sylvain Assalit's lifelong passion is to create prototypes of vehicles. This is his world. He studied engineering at the University of Toulouse and started work in the automotive industry. At 26, he took an engineer's position in a Mexican plant. He worked there for 18 months, long enough to meet his future wife, "beautiful Helen".
A few years after Sylvain returned to Europe with his wife, he was given a job as a consultant in Bulgaria. The couple lived in the southern town of Kardzhali for two years. Then, Sylvain headed the team of another French company, and he and Helen moved north to Ruse, on the Danube River.
The French expert says: "We decided to settle here. Living is safer and much more peaceful in this place. Many Bulgarians think that living in the West is much better, but they don't appreciate the tranquility here. It's much harder to get by in Western Europe. The theft problem in the West doesn't exist here. No one will smash your car window."
The couple bought a house in Sandrovo. It was a welcome change from the confines of the box-like apartments in Kardzhali and Ruse. The people of Sandrovo received the foreign family well. Their three children were born here. Although they speak Spanish at home, they feel Bulgarian. "My children speak Bulgarian fluently, without an accent," Sylvain notes with pride.
The engineer decided to start his own business. It was hard at the beginning: no job security, no regular income, too many unknowns. He knew he was good at making vehicles and wanted to prove himself. "For example, a customer wants a special vehicle which is not in the catalogue. We design it, and then we make a prototype. At first, I did the design work on my own, but later other people began to help me, and our team expanded," he explains.
In 2019, Sylvain won his first sum of project funding from the European Union. It was to the amount of more than BGN 150,000. He also devised a successful energy efficiency project worth BGN 140,000. A-quarter-of-a-million leva project for the acquisition of new machinery has been approved for funding as well.
Sylvain realized that a small business like his would benefit from being housed in a representative-looking stand-alone building. He wanted it to have a well-lit interior in which the sun could be seen throughout its daily journey from east to west. Therefore, he was told that what he needed was a round building. So, he got one constructed. He says: "When your business is in a stand-alone complex, customers trust you more and are more interested." The French entrepreneur relies on happy customers rather than advertising.
While expanding his portfolio with all sorts of unconventional products, he keeps his focus on motorcycles. "One of the things you can improve about a motorcycle is its front suspension," he says. He has worked on the idea for almost 15 years. He proudly shows his motorcycle prototype which has a unique front frame. While the motorbike is in motion, the front frame can be adjusted for one of two riding modes: manoeuvrable or steady. The inventor is still working on the model. He hopes to be able to market it as an exclusive product for connoisseurs and make it available in limited series across the Atlantic.
The Frenchman is also working on his own replica of a 1960s Formula 3 race car "with a noisy engine". It is intended for "unprofessional drivers who want to feel a rush of adrenaline on the weekend".
Sylvain says that, with all their lifestyle differences, the people of Europe share the same mentality. "We are like one big family, like cousins," he argues. He is determined to stay in Sandrovo because he likes the tranquility of the place. What he misses most about France is the wine, the cheese, and the attitude towards history. "You have great history here in Bulgaria, but you need to take better care of your old architecture," he says, and explains how period houses in Southern France are restored using authentic materials of the past, not modern-age substitutes.
Sylvain Assalit has found his place in the world. He is glad to welcome every new day lounging on the terrace of his house. A happy Frenchman in Bulgaria.
/VE/
news.modal.header
news.modal.text