site.bta

Deepening of Bilateral Ties Discussed during Dutch PM's Visit to Bulgaria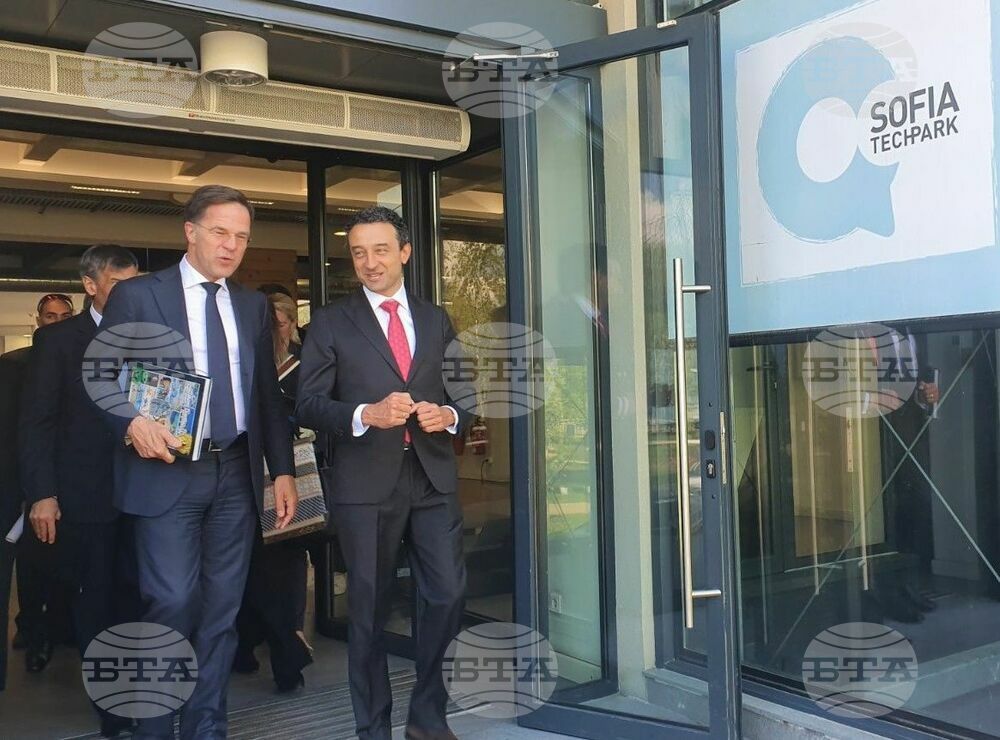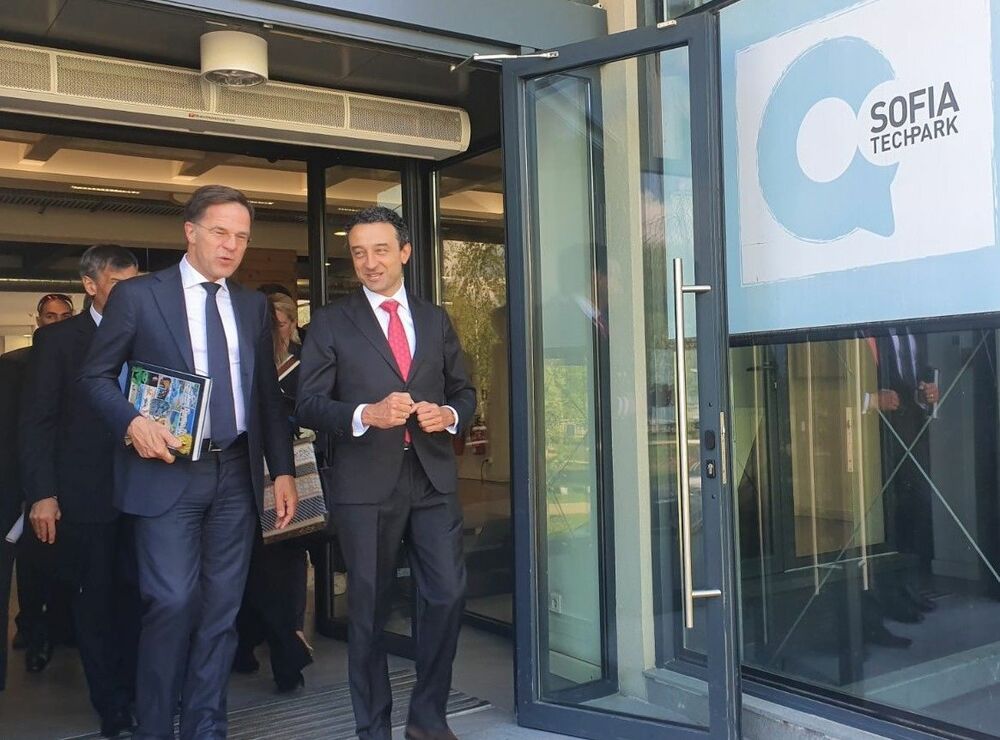 Dutch Prime Minister Rutte (left) and Innovation Minister Lorer visiting Sofia Tech Park (Innovation Ministry Photo)
The deepening of bilateral ties between Bulgaria and the Netherlands featured on the agenda of the meetings of Dutch Prime Minister Mark Rutte during his visit here on Monday.
Bulgarian Prime Minister Kiril Petkov and his Dutch counterpart had a one-on-one meeting, followed by a plenary sitting of the two delegations. At a joint briefing afterwards, Petkov said that just like the Netherlands is Europe's western gateway, Bulgaria could become Europe's eastern gateway.
Petkov said he and Rutte discussed current matters on the European agenda, including in the context of the war in Ukraine.
They also talked about common projects in the sectors of agriculture and IT. The two countries will also work on the establishment of a common fund for investments in new technologies in agriculture that could become operational by September.
Also discussed was the EU's common position on Europe's energy security. "Europe is stronger when together, rather than when everyone is fighting on their own," Petkov noted.
"We have one vision for Europe with zero corruption. I confirmed that this is very important for the Bulgarian government both at national and at European level. We also discussed the fact that Russian energy projects and Russian foreign policy very often include corruption. Together as Member States we should be sure that this type of influence in the EU is absolutely unacceptable," Petkov said.
The Bulgarian Prime Minister went on to say that he and Rutte discussed the topic of North Macedonia's EU integration as well as of Bulgaria's entry in the Schengen area. In Petkov's words, the implementation of the Bulgarian Government's strongest task - to remove corruption and to increase the level of Bulgarian institutions - is the surest way to Schengen. "Mark [Rutte] assured me that this is the way. This is not a matter of political statements but of doing our job," Petkov argued.
Taking a question, Petkov said that the future of North Macedonia should undoubtedly be in the European family; now it is a matter of specific constructive steps to walk this road together. "This is not a function of a calendar or expectations but of the common work that we should get done together. When we do it, our government will table the topic in the Bulgarian National Assembly, and I hope that in the not-too-distant future we will make progress and that North Macedonia's European future will become a reality," Petkov told journalists.
He expressed gratitude to the Dutch Prime Minister for the cooperation in the field of defence, including for the Dutch F-35 fighter jets taking part in protecting Bulgarian airspace.
Rutte said it is important to stand by each other because the threat from Russia is a threat not only to Bulgaria or Romania. "We should deal with that threat together both at the EU level and together with NATO," he said. To be divided is to be defeated, the Dutch Prime Minister added.
He assured Petkov that Bulgaria has friends everywhere in Europe, and congratulated him on the Government's intention to counter corruption and modernize the country.
Innovation and Growth Minister Daniel Lorer and the visiting Dutch Prime Minister discussed possibilities for advancing bilateral relations in the field of innovation, digitalization and investments in high-tech productions, Lorer's Ministry said.
Lorer and Rutte discussed cooperation between startups, small and mid-sized companies, investments with high added value, research, infrastructure connectivity, artificial intelligence and boosting ties between universities and businesses.
The two also discussed interaction in supercomputers, hydrogen, batteries, green economy and smart agriculture.
Minister Lorer noted that the Bulgarian government focuses on innovation and promoting economic growth and on the fight against corruption and observing rule of law in order to improve conditions for business and the investment climate in Bulgaria.
"With the new approach we have many business opportunities to offer to Dutch investors in various technological areas," said Lorer.
The Dutch Prime Minister was familiarized with some of the technological and innovation projects in Bulgaria.
Dutch companies are among the largest foreign investors, mainly in manufacturing and IT services, the press release recalls.
/DS/
news.modal.header
news.modal.text