site.bta

Vice President Joins Days of Bulgarian Culture in Cyprus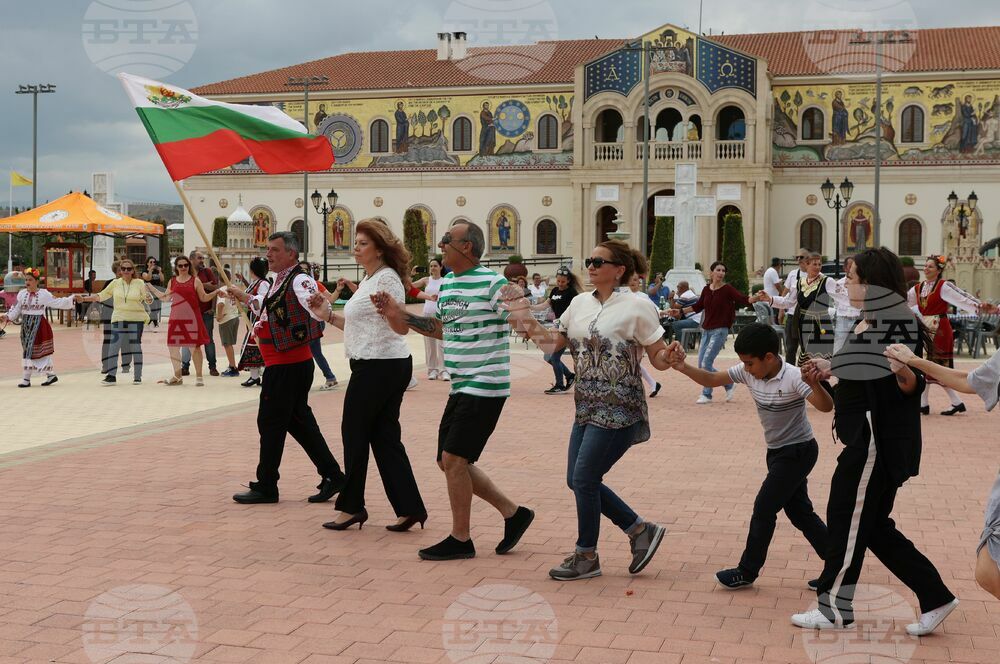 Vice President Iliana Iotova (front row, second from left) takes part in the "May 24" celebrations in Tamassos (BTA photo)
Vice President Iliana Iotova was a guest at the 25th edition of the Days of Bulgarian Culture in Cyprus at the invitation of the Union of Bulgarians in Cyprus ahead of May 24, the Day of the Bulgarian Alphabet, Education and Culture and of Slavic Literature. Iotova attended a folk music and dance concert in the church complex of Tamassos, where a landplot has been provided to build a Bulgarian church. That was the second and last day of her visit to Cyprus.
The Vice President said May 24 is the most beautiful Bulgarian holiday. "No other country has an anthem of its letters," she noted. She said that more than 11 centuries ago Bulgaria created an alphabet, a literature and a culture which spread far beyond the country's geographical borders. "Bulgaria gave birth to the third Christian civilization, the Slavic civilization," Iotova added.
She called on the Bulgarian community in Cyprus to remember their roots and to pass the wealth of Bulgarian culture to their children.
Metropolitan Isaias of Tamassos and Orinis described Bulgarian civilization and culture as a huge asset for the world. He thanked the Bulgarian Orthodox community in Cyprus for their cooperation. For her part, Iotova thanked the Cypriot religious and secular authorities for the care they give to the local Bulgarians.
Iotova presented the Union of Bulgarians in Cyprus with a gold-plated tablet featuring the Bulgarian alphabet.
The Kapantsi Folk Ensemble from Popovo, Northeastern Bulgaria were guest performers at the concert.
Earlier on Sunday, Iotova visited the Bulgarian school in Aradippou, on the outskirts of Larnaca, to celebrate the Day of the Bulgarian Alphabet together with its pupils and teachers. She delivered a donation of Bulgarian-language dictionaries and books.
The guest talked with representatives of Bulgarian schools and cultural associations in the area. An official from the Cypriot Education Ministry and the Deputy Mayor of Larnaca were at the meeting.
/VE/
news.modal.header
news.modal.text