site.bta

Employers Urge Price Cuts Based on Power Market Stability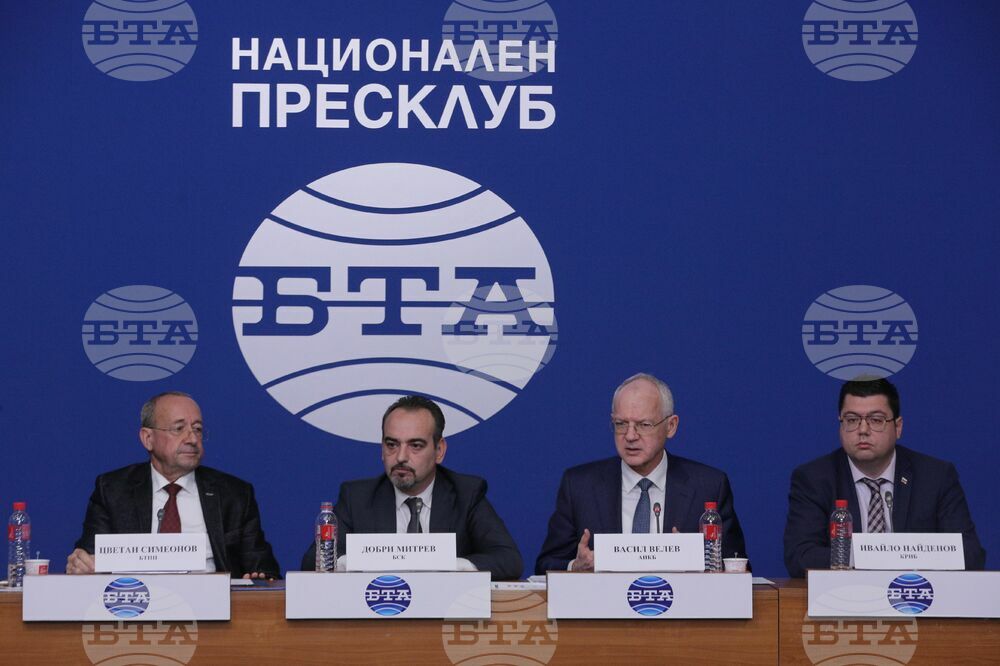 Pictured from left: Tsvetan Simeonov (BCCI), Dobri Mitrev (BIA), Vasil Velev (BICA), Ivaylo Naydenov (CEIBG) (BTA Photo)
The Association of the Organizations of Bulgarian Employers (AOBE) urged its members to price down their products now that the risk of electricity market instability need no longer be factored in. Speaking at a BTA-hosted news conference on Thursday, the leaders of the four Association members praised a National Assembly resolution which guarantees compensation to all non-household electricity users for the whole of 2023.
The AOBE members are the Bulgarian Chamber of Commerce and Industry (BCCI), the Bulgarian Industrial Association (BIA), the Bulgarian Industrial Capital Association (BICA), and the Confederation of Employers and Industrialists in Bulgaria (CEIBG).
On December 6, Bulgaria's Parliament instructed the Council of Ministers to adopt a programme for providing compensations to non-household consumers of electricity. All consumers on the free market will be fully compensated for electricity prices between BGN 200 per MWh and the monthly average Day Ahead market price on the Independent Bulgarian Energy Exchange. Currently, compensation is paid for electricity prices above BGN 250 per MWh.
BIA Chair Dobri Mitrev, whose organization holds the rotating chairmanship of the Association, praised the decision to introduce equal compensation for all businesses. He called it "a nationally responsible decision in the interest of the competitiveness of the Bulgarian economy and of every Bulgarian".
Mitrev called on producers, processors, traders and importers to reflect this stability in a downward trend in the prices of products and services. He said Parliament's resolution of December 6 ensured predictability, competitiveness and stability of electricity prices, adding that businesses expected a similar decision to be made about the price of natural gas.
BICA President Vasil Velev said the AOBE can only call on businesses to "take an ethical stance and tighten belts in the name of the common goal - entry in the Eurozone". He said businesses now have a chance to cut prices without incurring losses.
Businesses object to higher minimum wage and social insurance contributions
Businesses object to the Socialist Party's proposal for a minimum wage of BGN 850 in 2023, up from BGN 710 now. The employers said that the average monthly wage in all regions except the capital Sofia is under BGN 1,600, and warned that this would lead to inflation and to a larger grey sector where social security contributions will not be paid. Velev said this would equalize wages of slightly over BGN 1,000 in the clothing and textile industries, the food and hospitality industries and agriculture, to salaries in sectors where higher qualifications are required.
Parliament voted almost unanimously on first reading on Thursday that the minimum wage for the following year should be set by October 31 and should be at least 50% of the gross average wage for the 12 months preceding that date.
The employer organizations also oppose strongly the Socialist Party's proposal that the maximum contributory income be raised to BGN 4,200 in 2023. Vasil Velev said this would lead to an annual increase of 53% as the maximum contributory income was raised from BGN 3,000 in the first quarter of 2022 to BGN 3,200 from April. He argued that such an increase was economically unjustified at a time when companies have already drawn up their business plans. He warned this would fuel inflation and delay Bulgaria's Eurozone entry in 2024. Velev added that a higher maximum contributory income would act as a deterrent to investments in the IT industry and other sectors which generate large budget revenues.
/DD/
news.modal.header
news.modal.text