site.bta

Days of Bulgarian Documentary Cinema to Be Held in Bosilegrad in June 8-12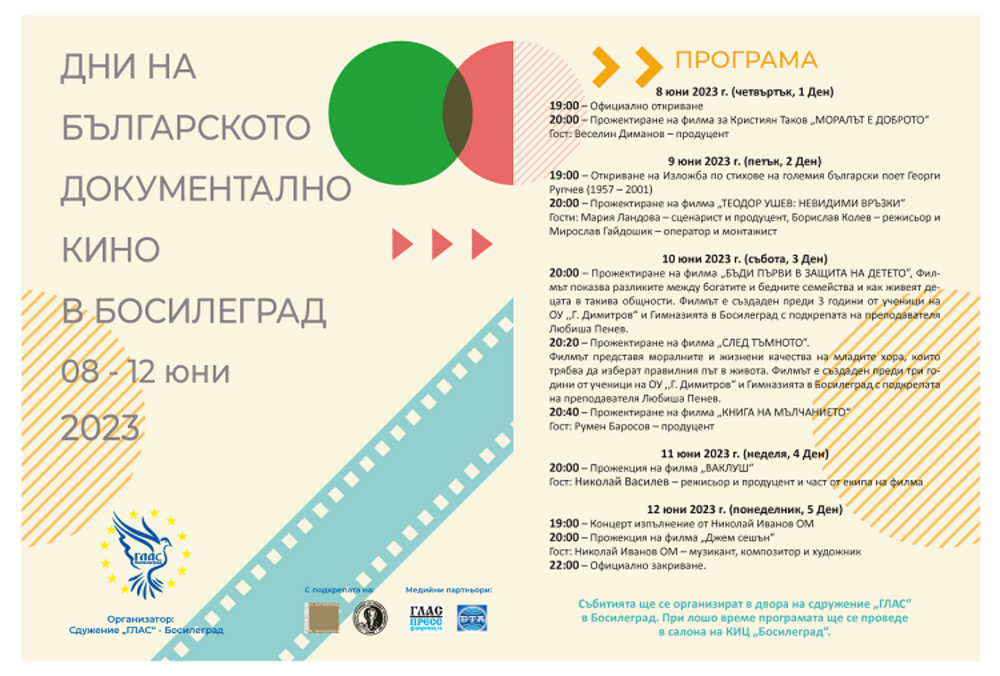 Poster for the event (Source: BTA)
Bulgarian Documentary Cinema Days start in Bosilegrad on June 8. The film programme will open with the film "Morality is Good", which presents the life and work of Christian Takov through archival footage and documents, as well as a series of interviews with relatives, friends and colleagues. The screenwriter and director of the film, Veselin Dimanov, will visit Bosilegrad especially for the screening.
On June 9, the screenings continue with the documentary film "Theodor Ushev: Invisible Connections", dedicated to the author of animated cinema and visual artist Theodor Ushev. Screenwriter and producer Maria Landova, director Borislav Kolev and cameraman and editor Miroslav Gaydoshik will be among the official guests of the event.
The programme also includes a screening of the film "Book of Silence", which is expected to be presented by producer Rumen Barosov.
The film marathon continues on Sunday with the film "Vaklush", shot over a period of 20 years, including footage from Bosilegrad. Special guest will be director and producer Nikolay Vassilev.
The five-day programme ends on Monday with the film "Jam Session", which tells the story of composer, multi-instrumentalist, artist and restorer Nikolay Ivanov OM. Before the screening, Ivanov himself will perform a concert program in front of the Bosilegrad audience, which will also officially close the Days of Documentary Cinema in Bosilegrad.
The film program is organized with funds raised by a charity action of the association "GLAS" - Bosilegrad. The event is organized by them, together with the support of the Foundation for Bulgarian Literature and the Student Community Center "St. Kliment Ohridski" 1997.
/DS/
news.modal.header
news.modal.text