site.bta

Bulgaria Marks 80th Anniversary of Rescue of Bulgarian Jews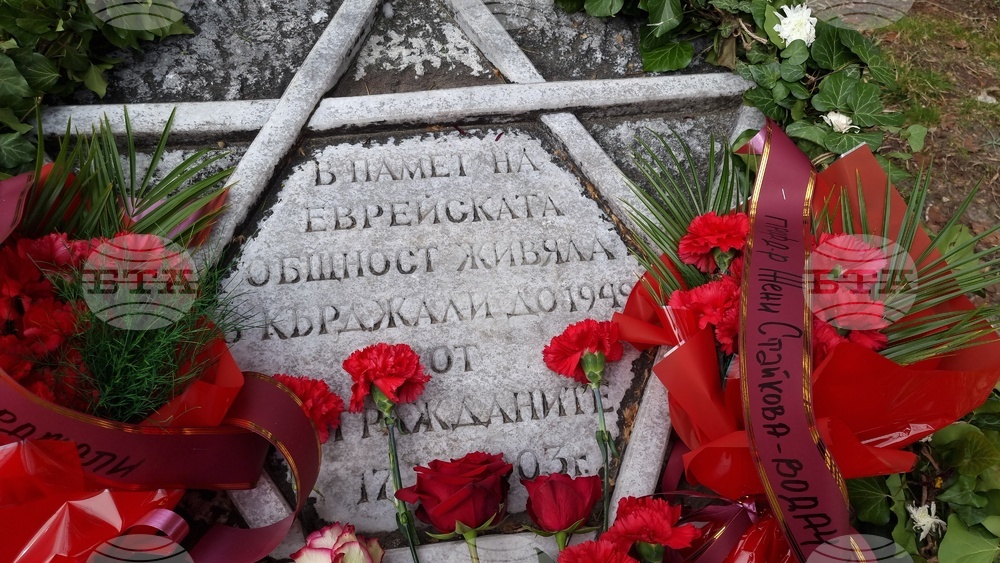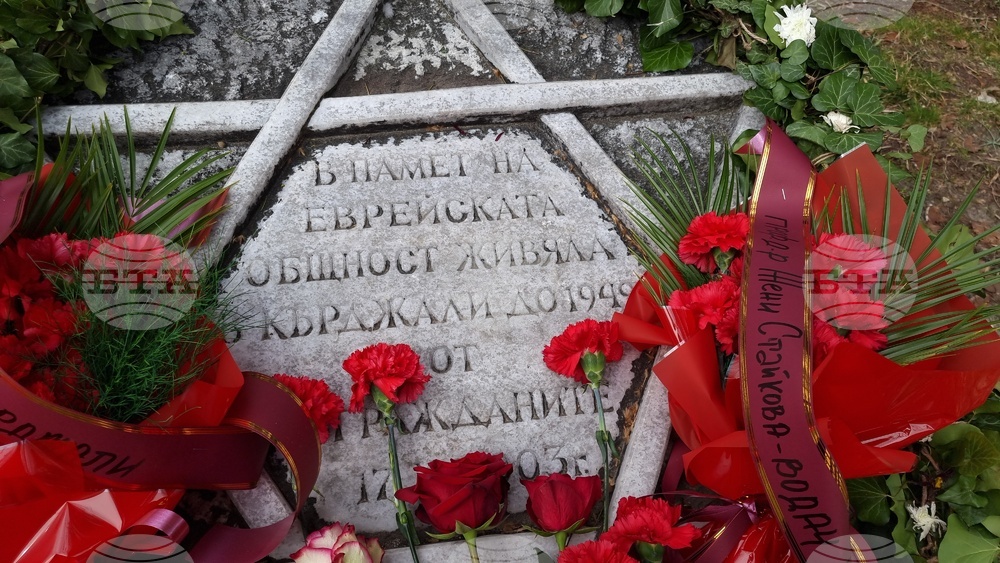 Flowers on the occasion of the 80th anniversary of the rescue of Bulgarian Jews at a monument in the southern town of Kardjali, reading "In memory of the Jewish community who lived in Kardjali until 1949", Mar. 10, 2023 (BTA Photo)
Friday saw the culmination of observances of the 80th anniversary of the rescue of Bulgarian Jews in World War II. The Day of Rescue of Bulgarian Jews and of Remembrance of the Victims of the Holocaust and of the Crimes against Humanity has been marked on March 10 since 2003, by a government decision of February 13, 2003.
On March 17, 1943, Vice-President of the 25th National Assembly Dimitar Peshev wrote a letter of protest to Prime Minister Bogdan Filov against the deportation of the Bulgarian Jews. The letter was signed by 43 lawmakers. With the actions of Metropolitan Cyril of Plovdiv and Exarch Stefan of Sofia and the intervention of the public, nearly 50,000 Bulgarian Jews were saved from deportation.
Several events were held in Sofia. An exhibition of documents, books, periodicals, and memories of contemporaries was unveiled at the St St Cyril and Methodius National Library. President Rumen Radev opened the exhibition, and Foreign Minister Nikolay Milkov and Culture Minister Nayden Todorov attended as well. The guest of honour was renowned Israeli historian and public figure Prof Michael Bar-Zohar.
A wreath-laying ceremony was held at the Memorial Plaques to the Rescuers of Bulgarian Jews next to the St Sophia Church.
A March of Tolerance and Wisdom was organized by the Sofia City Hall and the Shalom Organization of Jews in Bulgaria.
Jews from Bulgaria and Israel, in the presence of Jewish organization leaders, laid a wreath at the grave of King Boris III in the park of the Vrana Palace in Sofia. Historian Silvia Avdala of the Independent Association of History (IAH) said the Bulgarian royal dynasty had a tradition of warm relations with the Jewish community. She spoke about some government decisions and state acts which led to the salvation of the Bulgarian Jews.
A philatelic product called "The Unforgettable Faces of Salvation," marking the 80th anniversary was launched at the Sofia History Museum by Bulgarian Posts CEO Filip Alexiev. The stamp cancellation ceremony was attended by Shalom Organization of Jews in Bulgaria Chairman Alexander Oscar, Sofia Mayor Yordanka Fandakova and artist Nikolai Petrusenko.
Commemorative events were held across the country. In Varna, on the Black Sea, Irsaeli honorary consul Prof. Krassimir Metodiev addressed a multitude who had come to pay tribute to the rescuers. Attending were Mayor Ivan Portnih and Regional Governor Mario Smurkov. A wreath-laying ceremony was held in Ruse. In the southern town of Kardjali, a short documentary on the anniversary made by local students and teachers was screened at a local community centre. An exhibition of archive photos and documents was arranged in the southern town of Kyustendil. A documentary exhibition was also opened in Blagoevgrad to pay tribute to the local Jewish community.
/NF/
news.modal.header
news.modal.text