Bulgarian naval research ship bound back home from Antarctica
site.bta

Day 124: "Laughter and Socializing on Board Are Key to Crew's Survival," Says SCPO Dimitar Dimitrov of RSV 421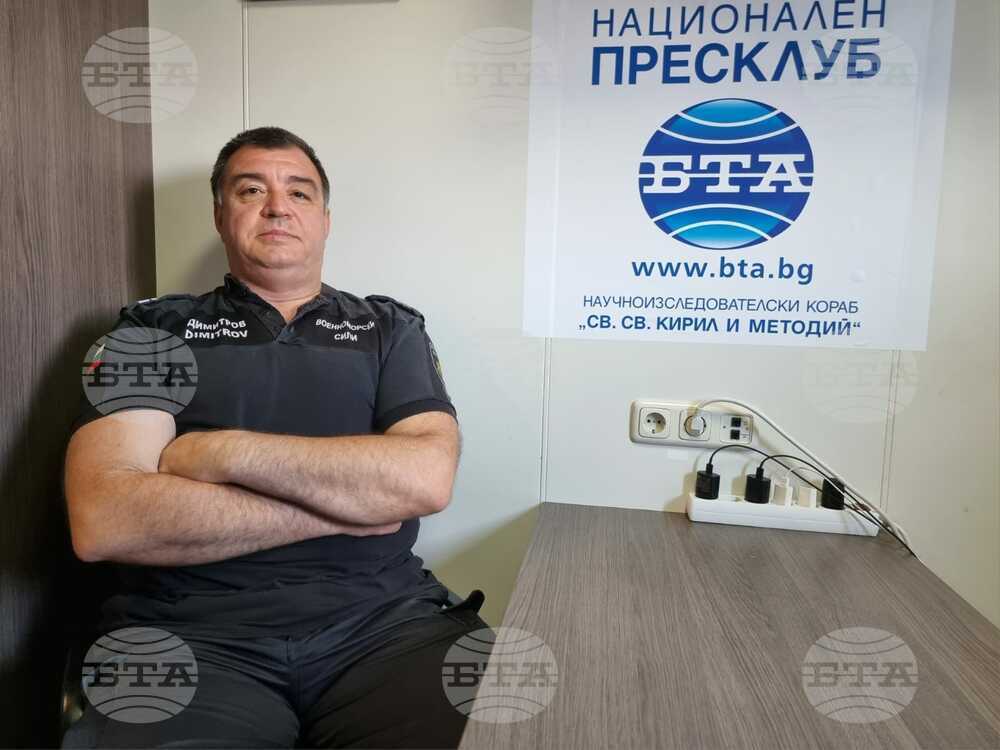 SCPO Dimitar Dimitrov, RSV 421 Senior Engineer (BTA Photo/Konstantin Karagyozov)
"Laughter and socializing on the ship are essential for its crew's survive. You need to stay enthusiastic and lively to cope with challenges and difficulties," Senior Chief Petty Officer Dimitar Dimitrov, Senior Engineer on the Bulgarian naval research and survey vessel Sv. Sv. Kiril i Metodii (RSV 421), said in a BTA interview near the end of the ship's successful participation in the 31st Bulgarian Antarctic expedition to Livingston Island.
The 53-year-old resident of Varna (on the Black Sea) is married, with two daughters. He studied at the Stoyan Pavlov vocational secondary school of shipbuilding (now Varna Marine High School), specializing in internal combustion engines and ship piping systems. He also qualified to work as hull fitter and welder. He was conscripted and joined the Navy as a motorman on a degaussing ship and then served on it for 19 more years - first as motorist unit commander and then as engine group officer. Then he gained nine more years' experience in the merchant fleet.
"In 2018, I learned that an Education Ministry order allowed discharged servicemen to re-enlist. I took the chance and joined a minesweeper as an electrician for three years. Then Commander Nikolay Danailov offered me to join RSV 421," said Dimitrov.
The seaman says sailing to Antarctica was not all good. "Work in the engine room has always been a pleasure to me, never a burden. It was always words that weighed me down. I've seen a lot, both as a motorman and a petty officer because I've always been in a subordinate role reporting to bosses. To use the popular phrase, 'Nothing kills a good officer like the superiors' tolerance for duffers'."
"The people in logistics did not grant some of our requests, which caused serious difficulties to the Technical Sector. This had its psychological impact on the crew during the long sea voyage. The machinery in the engine room was not always up to scratch, and yet we managed to cope and accomplish the task - successful participation in the 31st Bulgarian expedition. Without incidents, in harsh working conditions, we managed to deliver the whole cargo - both to the Bulgarian base and the two Spanish stations," SCPO Dimitrov said.
He believes that all the years when Bulgaria's Antarctic expeditions relied on transport by other countries have affected their working and living conditions on Livingston Island. "I hope that Sv. Sv. Kiril i Metodii will be a game changer as the ship will make it possible to transport larger and heavier cargo. I believe that the people in charge will find the best use for RSV 421, as the ship has a huge potential. A cosmetic overhaul of the electronics and major systems would lead to its operation at full capacity by the Technical Sector."
Along with his work duties on the ship, Dimitrov put his knowledge of fishing to good use and helped two Bulgarian scientists with their projects. "I am glad that my involvement in the biologists' projects helped them catch the Antarctic fish needed for their samples. In just one day, my crewmate and I caught a male and a female of the ever so rare ice fish. We even came across a rare starfish."
SCPO Dimitrov said a seaman's job is difficult and having good friends is essential - both among the crew and on land: "Friends on board support you, and those at home support the family in your absence. The seafaring profession is tough, especially on the wife and children. I'm grateful for my true friends. I am grateful for first winning over my neighbours and then building my home in the town of Aksakovo. A helping neighbour can do a lot for a parent stuck on land. My wife and I have made a habit of leaving a list of phone numbers of various people, friends of mine, for her to call in times of need, whether it is someone to help with a car repair, an emergency at home, to look after the kids or walk the dog."
Dimitrov hopes to become eligible for retirement soon, but is not planning to stop working: "In the short break I'll have after the voyage, I'll mostly focus on my family and, if there's time left, on home improvements. If I retire, I will continue to keep busy with work. If one stays idle, one misses out on life. Staying active and on the move makes your life complete."
BTA's Daily News editor Konstantin Karagyozov is the only member of the media who is travelling on board the ship to Livingston Island and back and covered the Bulgarian expedition on site throughout its stay in Antarctica.
All media outlets can use the Bulgaria-Antarctica BTA's Log for free.
/DD/
news.modal.header
news.modal.text